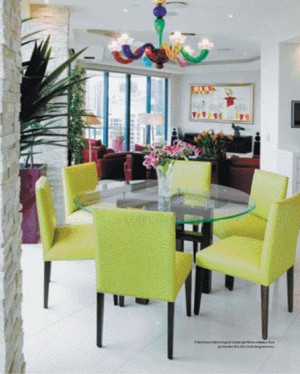 Faced with the prospect of having to live with their fi ttings and furnishings longer, John Croft of Brisbane-based John Croft Design is currently witnessing a return to a more traditional, classical look, but with a contemporary twist. Instead of taking that cruise or extended vacation, he says people are investing more on immersing themselves in both luxury items (such as the latest hi fi surround sound) and permanent quality features to brighten up the home. And when it comes to Queensland, he says that's all about complementing the laid-back and quintessentially informal 'sunshine state' lifestyle with a friendlier, more fun and even humorous look. "The former hard look is being replaced with a more joyous atmosphere. So the focus is on everything being bigger, brighter and bolder than we've seen for quite some time," advises Croft. "We're also witnessing a lot more use of limes, yellows and aqua shades than we've seen for some time," says Croft.
Individual persona
According to Helen Glover, owner of Brisbanebased HG Unique Spaces, Queenslanders have fi nally granted themselves the license to break out beyond the stark minimalist era which never really complemented family living. She says there's a signifi cant mood shift in appetite for individual expression, and not simply creating something that's just like everyone else. "The accent is on warmth and people are now confi dent enough to embrace their own taste," says Glover. "This means mixing the ornate with the clean-line and contemporary or creating a romantic feel with certain textured wallpaper — which is becoming a personalised art." She says the focus today is all about creating certain feelings within unique spaces around the home. And instead of stoically trying to 'match' everything, Glover says clients are much better off coordinating. She says that often means being daring enough to create a contemporary eclectic look by using juxtaposing styles — such as Asian cupboards or Chinese artefacts with a French provincial dresser, Moroccan cushions and painted wooden chairs — within the one area. "More people are waking up to the realisation that the greater the variety of expressions they use within their home, the more they're allowed to use," says Glover. "The trend is more of everything. Bland is out, and people are now accessorising with diff erent fabrics and colours." According to Di Henshall of Noosa-based Di Henshall Interior Design, the eclectic look is all part of a busier look that allows people to show off more textures and features than was previously regarded as de rigueur. "Within harsher economic times, people want the feel and touch of nice things around them," says Henshall. "That's why bouquets, velvets, imitation leathers and suede, plus rich, brighter and cleaner colours are popular again."
Indoor/outdoor nirvana
Given their warm-to-tropical climate, it's hardly surprising Queenslanders have perennially searched for the ultimate balance between indoor and outdoor living. And having fi nally realised they live on their verandahs and balconies (as much as possible), contemporary apartment designs are also catching up with the Queensland lifestyle. Chris Chamos, head of The Chamos Group, was so fi xated with creating the indoor/ outdoor nirvana that he named the company's Mackay-based high-rise luxury apartments Lanai — Latin for balcony. As an evolution of the old Queenslander-style verandah, he says Lanai apartments were designed to ensure the continuous fl ow between indoors and out and large balcony spaces complemented the Queensland outdoorsy lifestyle. "It's not uncommon for Queenslanders to have their only dining table on the verandah," says Chamos. "Due to predictability of weather, this is a more realistic option than it is in the southern states." He says the airiness of soaring six-metre ceilings and fl oor-to-ceiling windows (within Lanai) are complemented by generous wraparound balconies that provide sweeping vistas of Mackay's blue-water Pioneer River. "In addition to regulating the sun (and view) that rises over Mackay at 4.30am every morning, louvre screens also allow for the cooling eff ect of sea breezes," says Chamos. "We've also tried to match the furnishings within Lanai with the current trend towards understated quality."
Initial designs
But while Queensland's climate makes it easy to blur the indoor-outdoor divide, Croft says communal dining/entertaining themes should ideally be embraced within the initial design concept. He says while it's important to listen to what clients want to see in their homes, any interior also needs to refl ect the intrinsic architecture. "For example, you can't force deep swags on windows that are 2.4-metres, so you need to be careful of what you're doing," he says. The danger of not bringing in interior designers before the building starts, advises Glover, is that they become overly focused on fi nishings when they really need to be stakeholders in designing spaces with functionality. She cites requests by parents for private 'chill-out' spaces ('no-go' areas for kids) as a case in point. Similarly, she says empty nesters (notably baby-boomers) are reinventing spaces within the home that they're allowed to use now the kids have left. To Henshall, the key to embracing interior considerations at the drawing stage is that all the visual aspects, from tiles, cornices, shower fi xtures and vanities through to the electrical appliances, can be planned out while there's still time for modifi cations. She says being serious about seamless indoor/ outdoor fl ow means paying as much attention to the inside living area as the outdoor space. "So if you're going to spend $20,000 on an indoor lounge suite, you need to do the same outside," advises Henshall.
Funky yet traditional
According to Sally Gardiner of Brisbane-based Sally Evans Design, the uniformity of quality throughout the home is also having a signifi cant impact on fi ttings and furniture. Gardiner says the attempt to create one seamless indoor/outdoor space means the outdoor furniture can no longer be relegated to an afterthought. She says this realisation has also led to a rebirth of exquisite outdoor furniture (in a range of new colours and new-age materials) and the notable revival of the colonial wicker look — a perennial favourite within Queensland homes. "Softer greens and blues on roofi ng and gutters are complementing taupe hues, greys and white-on-green shades, which are common themes within outdoor furniture," says Gardiner. She says while home-grown brand Casualife furniture is proving to be popular as patio and outdoor furniture, off shore brands such as Tidelli and Rausch Classics are also in demand. What's also popular, adds Glover, is resort-inspired thickweave outdoor (or indoor) furniture by brands such as POSIdesign. While they have the feel of natural rattan, new-age hardy materials (with UV protection) mean they can be left outside in all weather. And when it comes to bridging the gap between traditional indoor and funkier outdoor furniture, she says Italian brand, Casprini, is also in strong demand.
Sustainable materials
Given that many outdoor rooms have bi-fold doors, louvres plantation shutters and fewer fi xed walls to work with, there's a greater emphasis on fi ttings — notably using smarter and more robust fabrics — to help create and defi ne specifi c fashion statements. And Henshall expects 2009 to herald a new era in technologically advanced textiles that have been in the making (under stricter guidelines) for some time. Better known as environmentally friendly fabrics which combine natural and man-made fi bres, these materials will harmonise with Queensland's more demanding climate, says Henshall. "There's a much greater emphasis on sustainable materials to keep homes cool or warm, especially now that energy effi ciency is top-of-mind," she adds. And in an attempt to embrace sustainability, she says there's a notable uptake in awnings and curtains and blinds. What's particularly noteworthy, Henshall adds, is the prolifi c use of what used to be called Holland roller blinds, and sunscreen binds that block out up to 90 per cent of UV light. Equally popular, says Henshall, is a new range of energy-rated glass options — (such as Pilkington Comfort plus) with thermal (or UV) values — that take the strain and cost off the heating and cooling equipment to be installed. And in keeping with the return to a more 'home-spun' look, Croft says people are also favouring the warmth of limestone and natural timbers (for internal fi nishings and fl ooring) over less eco-friendly man-made alternatives. "While there is less carpet within family spaces these days, the high-polish look has given way to a more relaxed matt look," advises Croft. According to Glover, when it comes to added durability and low maintenance, homeowners are quick to embrace a new generation of composite product off erings that combine natural materials with plastics or even waste products. These include anything from lightweight foam (concrete) claddings (such as Hebel), recycled plastic decking materials (such as Timbertech) or (UV-cured polyurethane-coated) bamboo fl ooring that has the look and feel of the real thing without the expensive price tag. "While people often don't pick their ideal products (such as recycled timber) due to price, they need to consider the serviceability of their alternative choices," reminds Glover.
Shedding light
Given the trend to feature unique spaces within the home, the renewed focus on lighting is hardly surprising. Glover says the combination of design fl air with green solutions means there are now some truly inspiring ways to showcase beautiful fi ttings. "The preoccupation with ceiling lights has been replaced with more glamorous fl oor lamps, especially within very big spaces," says Glover. "You can't go wrong with drum lights (that complement eco-friendly bulbs) to create focal points." And given the regulations that mandate for 40 per cent low-energy lighting in newly built homes, Henshall expects progressively less demand for downlights. The return to a more classic look hasalso seen a return to Art Deco lighting, which particularly harmonises with Queensland's understated and relaxed look. Henshall expects 2009 to see a growing demand for low-energy lighting as new innovations come to market. She also expects to see the notable uptake of eco-friendly LED (and fi bre-optic lighting), which have predominantly been in commercial use for both indoor and outdoor applications.
Alfresco fare
With Queenslanders doing a lot of their living and eating outside, much of the cooking has also been taken outdoors. While the barbecue remains an essential addition to any outdoor living space, Henshall says the number of either dedicated outdoor ovens or indoor/outdoor kitchens is becoming increasingly more popular. "We've been designing indoor/outdoor kitchens that are protected from the elements by lanais or loggias that might have plantation shutters," Henshall says. "But we're also designing elaborate outdoor barbecue/kitchens that have no shelter beyond a weather-proof outdoor cover." And when it comes to indoor kitchens, she says there's a strong expectation that appliances will refl ect the overall quality of the home. She says there's fi nally a realisation that the fl ight to quality brands, such as Gaggenau and Miele, are a better option than the false economy of having to replace cheaper versions within a shorter period. "Popularised by chefs due to their speed and energy effi ciency, induction cooktops are also becoming increasingly popular," says Henshall. "Another fabulous addition to both indoor and outdoor kitchens is the under-bench (Fisher & Paykel) fridge drawer — an ideal place to store cheese and other 'soon-to-be-consumed' perishables."