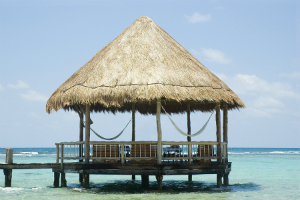 With a spectacular pavilion, outdoor entertaining reaches a whole new level

Exotic and charming, a hand-crafted Balinese-style shade structure is the perfect way to keep your cool during the heat of a summer's day — and it's an ideal hideaway for long romantic evenings. More than that, it is a must-have design feature in any tropical-themed garden or poolside entertaining area.
Gazebo Direct specialises in the creation of these stunning pavilions, most of which are available in a choice of two roofing materials: Alang Alang grass or timber shingles. Both materials are waterproof and the thatching insulates so well that on a hot day it will be about five degrees cooler underneath it.
"At Gazebo Direct, we find a lot of our customers are amazed how well our pavilions fit into an average-sized or small backyard. Because each one is individually hand made by traditional skilled carpenters in Bali, we can have it made exactly to the size and style the customer desires," say Peter and Marjan Atchison, owners of Gazebo Direct.
For maximum design flexibility, gazebos are available in a variety of styles and options: traditional or modern, with or without flooring, full- or low-height walling, windows or bi-fold doors.
"Our structures can be used in the widest variety of settings, but the ideal setup is a Bali-style gazebo next to a pool or over a spa with a merbau timber deck, tropical plants and a nice daybed, which we also supply," adds Peter. "They come in a kit form and can be installed by our experienced team or by the home handyman with a few simple instructions."
Gazebo Direct is constantly adding to its range and the latest innovation is 'The Noosa', named in honour of the company's new display area in Doonan, just a five-minute drive from Noosa on Queensland's Sunshine Coast. 'The Noosa' has a timber frame and a Colorbond roof with timber slats underneath.
Although its display areas are located in Noosa and Sydney, Gazebo Direct can freight products anywhere in Australia — or the world. Just ask for a quote.
GAZEBO DIRECT – SYDNEY
18 Myoora Road
Terrey Hills NSW 2084
Tel: (02) 9986 3802
Fax: (02) 9970 5336
Mobile: 0414 223 814
GAZEBO DIRECT – NOOSA
677 Eumundi-Noosa Road
(Corner Fellowship Drive)
Doonan Qld 4562
Tel: (07) 5471 0622
Fax: (07) 5471 0623
Mobile: 0437 149 243
Email: sales@gazebodirect.com.au
Website: www.gazebodirect.com.au