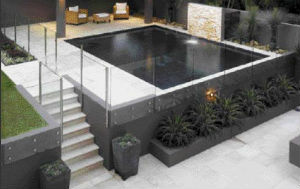 Paving can be both a practical and aesthetically pleasing option when it comes to vamping up your outdoor room
Words: Natalie Raad
Although serving many pr actical purp oses, paving can also be used decoratively in outdoor rooms. Whether it's for an entertaining area, driveway or to break up the lawn, there are many applications for paving in outdoor spaces. And with a range of sizes, colours and textures to choose from, paving has become a creative landscape design tool, limited only by one's imagination.
Paving has many practical applications but before you start choosing pavers for your outdoor space you need to first determine what the paved area will be used for. Will the space be used as an entertaining area? Is it for a pathway? Or is it to embellish a pool surround? These questions will determine what pavers to choose.
The first thing to consider before you start paving is the overall design effect you're looking to create. A poor choice of paver can date your outdoor room so be sure to choose pavers that match your outdoor space.
From a design perspective, you should aim to match the style of the paver to the colour, tones and architectural feel of your home. Paving should be a reflection of the architecture and, as such, colour choice, size and shape are very important.
You should choose a paver that does not dominate the colour of your home. The idea is to tone it in, not make it the main feature. Charcoal pavers are popular for this reason, as are sandstone and cream-coloured pavers, as they harmonise with most styles of homes. Cream-coloured terracottas are also a good option.
Pavers are available in a range of sizes and can be arranged in a host of patterns. Don't be afraid to get creative. Think of your outdoor room as a jigsaw puzzle, with every piece fitting seamlessly into the next, and you can't go wrong.
The size and laying pattern you choose should be determined by the style and design of your landscape as well as your own personal preference. It's also important to consider what will work best for the environment you have.
Although being creative when it comes to pavers is limited only by your imagination, there are a few hard and fast rules that need to be obeyed to ensure your paving looks good and lasts.
Firstly, paving should be laid on concrete to avoid any settling and weeds coming through. The base is the most important element when it comes to paving — incorrect installation will mean over time the paving will fail.
Paving falls for drainage purposes must also be considered and, as necessary, drainage pits installed.
If you're using a crushed-rock base for smaller-sized pavers, the sub base or natural ground underneath must be profiled to a level which equals the finished level of the paving minus the depth of the crushed rock, bedding sand and paver itself.
For larger pavers or areas where cars are to be accommodated, a reinforced concrete base should be installed, generally to a depth of approximately 25mm, levelled and then the pavers installed.
Once the practicalities of paving have been taken into consideration, the creative process can begin. As well as for functional purposes, pavers can also be used aesthetically to add sophistication to your outdoor room.
Paving is available in all sorts of colours, shapes, sizes, textures and finishes, ranging from manufactured products to natural stones and slates. There is a huge range of products to choose from, making the process of paving your outdoor room an enjoyable task.
Decorative paving can link your garden to your dining or pool area very simply by adding pavers of the same finish or colour. These can be functional stepping pavers or simply added for decoration.
Space is an important factor to consider when paving. More often than not, the size of the paver is relevant to the space, so small pavers will help a small space appear bigger and vice versa. Large pavers, however, in a small space will make the already small area appear even smaller.
Another way of adding to the size of your outdoor room is to use pavers as garden benches or seats.
When it comes to angles, 45 degrees or herringbone is recommended. It's important to take into consideration where the lines will direct the eye in the landscape — lines in paving can be subtle indicators on where to look.
Spacing pavers with pebbles is another great decorative idea and enables you to design patterns using several complementary sizes. Paved areas look great if they are edged with a smaller paver. Furthermore, using a half-size paver with a full-size one creates a very interesting design effect.
Design tips for paving your outdoor room:
Paving should relate to its surrounding environment
For a bush setting consider a natural slate or stone paver; for a modern rendered look, larger paving slabs work well to complement or contrast the colour of the render; and red bricks or brick-sized pavers using traditional paving patterns such as herringbone or basket weave work well in an older, period-style outdoor room.
Get creative with paving around pools
A clay brick-shaped paver can be used as a coping brick around a pool, the colour of which blends with the house brick, while a larger paving slab is laid in a diagonal pattern for the main body of the paving. Pool copings can be constructed from concrete and natural stone tiles as well poured concrete, so get creative and be a bit daring.
Paving can be used to manipulate space
A simple pathway laid in stretcher bond (one paver following the other) can visually elongate an outdoor room, giving the appearance of greater depth. The perception of space can be further achieved by extending pavers onto a wall section. This works well if the pavers are light in colour and if you have several retaining wall areas to cover.