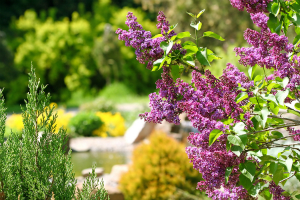 Botanic Gardens or public park — there is no shortage of places plant lovers can visit
Story: Vikki Mason
In a state the size of Queensland it comes as no surprise that you can find public and private gardens growing a vast array of indigenous, native and exotic plants. If you would like to see how a Queensland garden grows then you're in luck because there are showcase gardens all over the Sunshine State that are open to visitors.
Below is just a partial list of the many gardens that are regularly open to the public and worth visiting the next time you're travelling through Queensland. For information on private Queensland gardens that open their gates from time to time, check out Australia's Open Garden Scheme: www.opengarden.org.au
City Botanic Gardens, Brisbane
Open 24 hours a day, this 19 hectares of land along the banks of the Brisbane River features ponds, lawns, ornamental plantings, a bamboo grove, a mangrove boardwalk and an avenue of weeping figs. Guided walks are available.
Mackay Regional Botanic Gardens
Opened in 2003 after a 15-year development and construction period, these gardens focus on flora from the Central Queensland Coast bio-region, as well as other native and exotic plants from similar climates.
Emerald Botanic Gardens
The only botanic gardens located within the Central Western District of Queensland, they cover an area of 42 hectares. There are 12 different themed plant communities, most representing plant species indigenous to the region.
Flecker Botanic Gardens
Just 4km out of Cairns, this garden is a fairytale for plant lovers. A diverse range of plants from the steamy jungles of South-East Asia, South America and Africa that feel right at home in the warm, wet climate of Cairns.
Hillside Eden Garden
This is an award-winning, privately owned open garden in Tarzali in the Atherton Tablelands. Teresa and Shane Davis started redesigning the garden in 1998 and it now features thousands of plants and beautifully landscaped themed gardens and several waterfalls.
The State Rose Garden
There are more than 1500 roses planted in this garden in Newtown Park, Toowoomba. The rosarium is continually being upgraded as a living memorial to the people of the city and the district in general.
Kershaw Gardens
Initially an old landfill reclamation area, this Rockhampton site was opened as part of a project celebrating Australia's Bicentenary. It represents a natural Australian bush environment, in contrast to the more formal style of traditional botanic gardens.
Queen's Park
One of Mackay's best-kept secrets, the gardens here feature an oasis of tropical trees. There is also the Orchid House, which holds a collection of nearly 1000 species of orchids, some more than 70 years old.
Roma Street Parkland
From arid climate succulents to rainforest ferns, coastal wetland species and a spectacular ever-changing display of annuals, distinct precincts show off a diversity of plants in this parkland in Brisbane's CBD.
Laurel Bank Park
A beautiful parkland area close to Toowoomba's city centre, it features spectacular manicured gardens as well as an outstanding collection of exotic trees, including English and Spanish oaks, ginkos and Japanese maples. The park is also home to the Scented Gardens.