With Perth city views and a new makeover, this Kings Park apartment is one of a kind.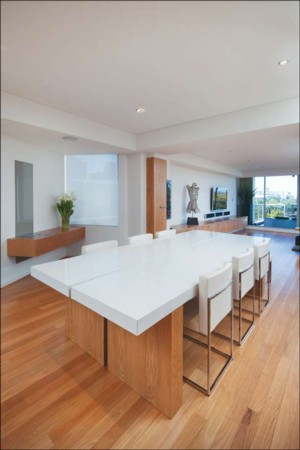 Located on Mounts Bay Road near Kings Park, this penthouse apartment's rooftop views became the inspiration for a renovation by Ultimo Interiors, together with Co2 Designs. The clients were after a design that was contemporary and functional, with an easy maintenance level. The result is a stunning apartment with an open-plan living area that has just the right amount of personality.
Throughout all the rooms, a consistency of style has been maintained and provides an essential connector as you make your way through the living areas to the bedrooms and study. Creating three bedrooms and bathrooms, study and open-plan living areas with a similar style and atmosphere proved an easy task, while white-painted walls make for a smooth transition through the different zones of the apartment, adding to the ambience of the entire space. The minimalist styling by Ultimo Interiors meant the client's preference for a "less is more" approach was adhered to. The sculptures and art used throughout the apartment become an extension of the residence itself, melding with the space as if they are meant to be there. The clients said they "didn't want to have a lot of pieces, just the right pieces", and this wish has certainly been granted. 
A classy and contemporary design has been created in the apartment through the choice of furniture and furnishings. The interior is fitted with high-quality, custom-built furniture and appliances that are functional without compromising on aesthetics. Bespoke furniture personalises the apartment and with every piece holding a specific purpose for the space, there is no clutter or over-crowding of pieces. While the apartment's living areas are all open-plan and feature blackbutt floorboards throughout, the alfresco kitchen upstairs is given a different look from the other spaces with the use of tiles. This rooftop terrace area is a wonderful part of the apartment as it provides a great place to entertain and escape to. Despite all this, it is the view from the balcony that is really amazing. 
Back downstairs, the kitchen is a feature in itself, sporting engineered stone benchtops and splashbacks with simple white lacquered cabinetry. The effect is elegant, without taking away from the rest of the open-plan room. Given that it is the penthouse apartment with limited access, Ultimo Interiors and the project's design team encountered some problems when navigating the delivery and co-ordination of the furniture pieces and other materials. 
With clever planning, the outcome is a transformation from dated and worn to contemporary and classy.
Contact Ultimo Designs today,
4 Hutton St, Osborne Park, WA, 6017.
08 9201 2479
info@ultimointeriors.com.au