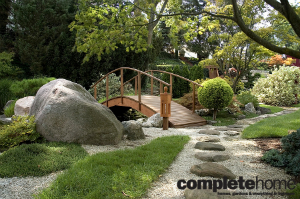 For stylish long-lasting screening and fencing solutions, consider vinyl
   
As the trend towards outdoor living has escalated, so too has the demand for privacy. Today, we want to be able to lounge by the pool or entertain friends without being overlooked by the neighbours, which means the use of a stylish screening solution.
Equally, we want fencing that will do more than stand the test of time, although longevity is important. We want fencing that complements the look our homes and works in harmony with our garden design.
Vinyl fencing and screening products from Paramount PVC offer many benefits: they will not rot, splinter or fade; they never need painting; they are easy to clean, not to mention graffiti-proof; they have acoustic qualities that exceed those of alternative products; and they are safe for children as there are no sharp edges. What's more, these products are designed to withstand strong wind (Paramount PVC meets all AS/NZS standards), are fire- and heat-resistant and don't radiate heat like alternative products.
The cost of installation is also generally lower compared with other options on the market because installing vinyl products (relative to other fencing products made from materials such as metal, timber and concrete) is easier.
Paramount PVC prides itself on not just the quality of its products, but the breadth of its range. To begin with, vinyl fencing, decking and balustrades are available in three colours: White, Tan and Clay. You can use one colour or mix and match to create an individual look.
Picket fencing comes in many styles and heights to suit all tastes and locations and is a long-lasting, maintenance-free alternative to traditional timber fences.
The privacy fencing is equally versatile. It's an extremely smart-looking product and is used extensively by property developers in North America for new housing and commercial estates. Because vinyl offers significant acoustic benefits, it's also often used when noise is an issue.
For semi-rural locations, horse studs and the like, Paramount PVC has a sturdy and attractive post and rail fencing option. In fact, they were the proud suppliers of post and rail fencing for the equestrian area at the 2008 Beijing Olympics.
The company is equally proud of its maintenance-free, easy-to-install, long-lasting vinyl decking system. This non-slip, lightweight flooring has a concealed fixing system that means no nails popping up.
The smart-looking vinyl balustrade comes in three styles designed to blend in with an existing verandah or deck, or a new outdoor structure. With a vinyl balustrade you will never again need to reach for the paintbrush.
Paramount PVC is based in Bayswater, Victoria, and has distributors and installers throughout Australia and New Zealand.
PARAMOUNT PVC
Tel: (03) 8727 6244
Website: www.paramountbuildingsolutions.com.au