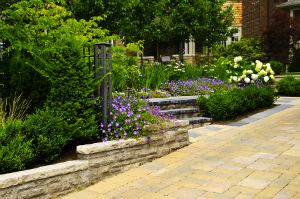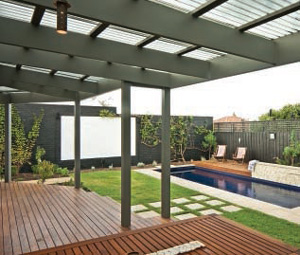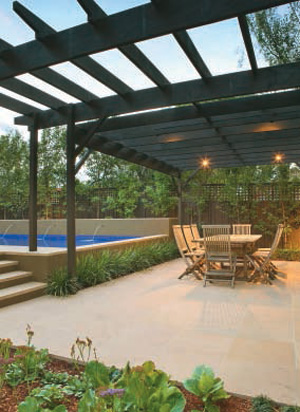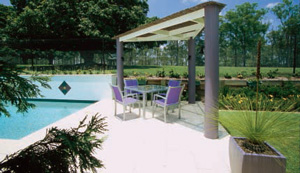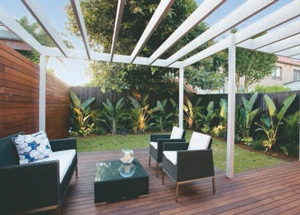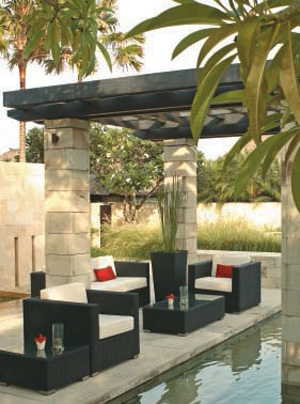 "A pergola's instant shade is a summer lifesaver"
Sweet retreat
Pergolas define a space and create a sense of enclosure without being closed in
Words: Catherine Stewart
Protected outdoor space is an essential addition to any home. If you're not blessed with a wide, shady verandah, a pergola's instant shade is a summer lifesaver. Whether it's attached to the house or freestanding, a pergola is the perfect place for entertaining, relaxing and playing.
What is a pergola?
Pergolas are open, built structures without walls or a solid roof. They can be attached to one or two sides of a building or built as a separate structure. Ideal for supporting vines and espaliers, they give shade and shelter while breaking up the sometimes boxy outline of the back of a house, especially those with two storeys. Enclosing a space in a garden instantly makes it feel more human-scale, as we love the feeling of protection given by a roof and walls. Outside, solid structures can feel oppressive or too much like being indoors, so the open style of a pergola does just the right job.
Many homes have an informal living area at the back leading to an outdoor room, over which a pergola can form the protective canopy. However, there may be other rooms that can be opened to the outdoors, such as a bedroom or bathroom, with some outside covering. In other parts of the garden, a freestanding pergola might change an unpleasantly hot paved area beside the pool into a great place to sit, or transform your only level area right up the back of the garden into the perfect outdoor dining room.
Shade and protection
The shade from a pergola makes a big difference to the internal temperature of your home. When a pergola is positioned on the north-facing side, summer sun is kept off walls and windows and, if the pergola is high enough, winter sun streams in underneath. Use this technique in other parts of the garden as well, such as over dark-coloured paving. Keeping it shaded in the middle of a hot summer's day but exposing it to winter sunlight allows you to make cosy seating nooks for all seasons.
With some simple calculations you can add angled blades across the top of the pergola that exclude high-altitude sun but are exactly right for low-angled winter sun to get through. For example, if you live in Sydney, angle them at just over 30 degrees from horizontal. The spacings, width and thickness of each blade are important, too, as the thicker the blade is the greater the proportion of winter shade it will cast. To exclude summer sun, the blades need to overlap by about 25 per cent.
Structures of substance
The best-looking pergolas have substantial posts, often much thicker than is required structurally. Timber 90mm × 90mm posts might be enough to safely hold it up but thicker timber (at least 115mm), twin or triple posts and concrete or steel columns create better proportions. Joists or rafters also look fabulous when they're oversized, such as reclaimed timber beams.
A pergola needs to be big enough for what you want to do underneath it, but also so it looks the right size for your house. Narrow pergolas are not much use unless the main purpose is just to shade house windows. For outdoor dining for six, you need at least ten square metres, but don't forget that the lower-angled autumn sun can still heat up your guests on one side of the table. Allow a one-metre-wide passageway alongside to compensate for this.
Height and shape
If you're attaching the pergola to the house, its height doesn't have to be governed by the height of your house eaves; it can be attached through a roof onto a load-bearing wall or cantilevered from outside posts to arch back over the roof. If you think you might want to cover it at some stage with a translucent weatherproof roof or shade cloth, it needs to be angled for hot air to spill out from underneath and prevent it becoming unbearably hot. In addition, set battens with at least a 5 per cent pitch so a roof added later will drain. A higher pergola also means you can grow vines or scrambling plants over the top, which can cascade down without ensnaring your guests.
Don't just automatically opt for a standard rectangle with a level top. Exciting pergola designs include circles, fans and triangles. Give yourself something to look up to as well, with wave-shaped or split-level roofs, domes, gables and arches, or decorative additions such as scrolls, fancy brackets, grating and artwork.
Plethora of materials
When pergolas first became popular back in the 1970s (when houses no longer always had a verandah), they were traditionally built from timber — either local hardwood or treated pine. Timber is easiest for a DIY job but it is more limited in span than other materials such as steel or aluminium, as it requires more posts and is not suitable for fire-prone areas. If you're painting or staining the timber, make sure you do the top, too, so it is well protected. Source some heavy lengths of reclaimed timber for a more rustic look. You can leave the timber to weather, but protect it from water using a flat steel capping fitted by a roof plumber.
Steel is best left to the professional and some special beams provide much longer spans, such as Lysaght's Firmlok. You can either paint galvanised steel yourself, have it powder-coated or use rusting Corten steel for a more modern look.
Aluminium pergolas won't rust or warp and can be powder-coated in a range of colours and even faux timber finishes, such as Metalart's Supabattens. Use the fine lines and strength of aluminium for angled blades that exclude sun but allow heat out.
Shade cloth is a quick and cheap alternative, but doesn't vent well. Woven reed makes quite dense shade while letting out hot air. You could also look at steel mesh or aluminium slats and lattice.
Stainless-steel wires or more open mesh are ideal for twining vines, but remember vines such as wisteria get very thick and heavy with age and have brought down even quite substantial pergolas. Deciduous vines let through some winter sun, but you may have to prune them back each year so that accumulated wood doesn't cast too much shade.
Slats that automatically open in good weather but interlock for weatherproofing are an expensive (around $1000/m2) but useful option when you want occasional protection.
The approvals process
State legislation to streamline planning approvals for small developments is gradually reforming the maze of intricate council regulations affecting pergola construction. In several states such as New South Wales, South Australia and Victoria, pergola construction may be classed as "exempt" development (meaning no planning permission is needed) if it conforms to strict floor area, height and covering rules. You will need to check with the rules that apply in your local government area, but if the pergola is an open, uncovered structure less than 20m2, lower than 3.6m high, with no side walls and not located forward of the building line or closer than 900mm to a side boundary, then it may be classified as exempt unless you have a heritage-listed home. Your pergola must still comply with your state's relevant building codes and the rules usually change if you want to cover it with waterproof sheeting. Note that in some states, a covered structure is called a patio, not a pergola.
If you don't think you can build a permanent structure onto your house, consider some alternative shading systems. Shade sails are available either off the shelf or custom-made, or you could look into an elegant seashell-shaped retractable, flexible, weatherproof awning, currently available as quarter, half or full circles that require no posts and can span up to 10.4m in diameter. Of course, awnings come in myriad styles, as do umbrellas.
Design tips 
    – Frame a view: A pergola can be used to frame a view, create a cool walkway or provide a space for outdoor entertaining. 
    – Indoor-outdoor flow: When attached to the house, a pergola helps to smooth the transition between inside and outside spaces. 
    – Use climbers: Climbing plants (vines, wisteria, star jasmine, mandevilla) can be grown up the posts and along the crossbeams. 
    – Match materials: The closer the pergola is to the house the more refined the construction materials and finishes should be. 
    – Style cohesion: Ensure the style and colour of the pergola complement the architecture of your house and garden design.
Light touch
Use light to add another dimension to your pergola design. Parallel battens cast wonderful striped shadows across the ground. Enhance decorative features with up-lighting or install a fancy chandelier-style light to hang over an outdoor dining or lounge area.
Focal points
Pergolas can be used as design elements — they don't have to mark outdoor living spaces. Purely decorative pergolas can be placed between the doors of two buildings, down the centre of a herb or vegetable garden, along a straight path, running parallel to a tall fence or hedge, or used to separate two garden areas while allowing views into each.