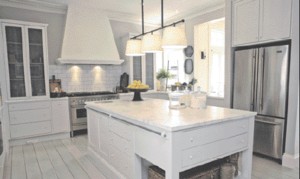 Provincial Kitchens sets a scene of splendour. 
After spending time in Paris collecting antiques and homewares, the owners of this magnificent kitchen returned to Sydney with inspiration for their new home. A provincial-cum-Hampton's style was settled on and it was decided the kitchen would serve as the visual pivot around which the house would revolve. They entrusted the project to Provincial Kitchens and designer Dominique McAdam and watched as their dream kitchen was brought to life.
The result is a space of breathtaking beauty, with views of olive trees standing leisurely in the rear garden providing the perfect backdrop for the stunning finishes found within. Simple timber knobs complement the shakerprofile cupboard doors and drawers, all of which have been hand-painted for down-to-earth charm. Marble benchtops are a stunning feature and look sensational atop the large island bench at the hub of the room, while a striking provincial canopy rests above the Ilve freestanding oven to add a traditional touch, which is further enhanced by a farmhouse sink with a routed drainer. Every detail of the kitchen was precisely planned by Provincial Kitchens to deliver the owners a picture-perfect room that is itself a visual feast.