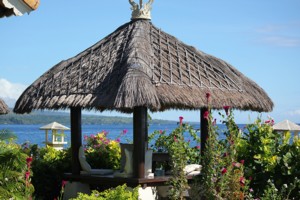 Now you can relax and unwind in the 'coolest' of shade structures

A thatch gazebo will enhance any form of architectural style. What's more, it will instantly turn your outdoor living area into the most versatile 'room' of your home.
Your home is your castle and when it comes to creating a thatch-roofed outdoor living area, imagination is more important than knowledge. All you need to do is think outside the square to come up with a personalised design solution that expresses your own sense of style.
Whatever style of retreat you desire (perhaps a custom-built unit in timber with a hipped or open, gable-roof design) or if you want the convenience of an easy-to-assemble DIY powder-coated frame kit, Tropical Lifestyle Centre can help you to create your own piece of paradise.
Besides its stunning good looks, an African thatch pavilion offers exceptional UV protection with the interior temperature often up to nine degrees cooler than the temperature outside. These structures are also shower-proof and can be supplied with fire retardant upon request.
A thatch pavilion over your spa is a stunning and practical addition to your favourite outdoor area, turning it into your own private resort. You can choose a DIY kit or Tropical Lifestyle Centre can arrange installation. The installation team has many years of design experience, so it is well placed to help you turn your dream backyard into reality.
Thatching can be used to create any number of remarkable features in your garden, whether a thatched pavilion by the pool, a thatch-roofed summer house in a secluded corner or a thatched umbrella in a courtyard.
TROPICAL LIFESTYLE CENTRE
801 Windsor Road,
Box Hill NSW 2765
Tel: (02) 9838 1323
Email: rusticthatch@bigpond.com
Website: www.rat.com.au