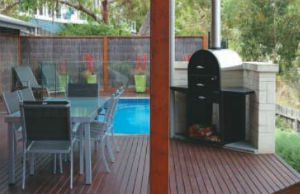 Ever wanted to cook a pizza just the way you like it in your own backyard? Now you can
The Wildcat 6000 is a quality-built mid-sized wood-fired pizza oven with fast heat up (30 minutes) that is not only Australian made and designed but feature packed, too, with more quality features than any other pizza oven on the market. The Wildcat wood-fired pizza oven is for domestic use and built to impress even the fussiest pizza critic.
In fact, it's more than a pizza oven. It can be used to cook all meals that your indoor conventional oven can cook, as it has a separate firebox and oven that allows you to cook desserts, cakes etc without the wood flavour. Or open the side vents and adjust the top baffle for not only pizzas but roasts, casseroles, vegetables and even smoke the snapper you just caught.
It was designed and manufactured for those who are after not only quality, but also excellent features. This pizza oven features a built-in smoker — an adjustable dual-action smoker that allows you to control the smoke into your cooking oven. This unique dual-slide control easily slides open and closed during cooking time, allowing you to adjust the flavour as you cook.
A quality, heavy-duty spring-action door means even when your oven is fired right up, the door is still a simple operation — and the oven door won't stick.
Based on a high-performance wood heater control, the Wildcat 6000 air wash allows pre-heated air to enter the firebox for cleaner burning, which means less smoke and a quick heat-up time. A 5mm baffle plate with 20mm air gap on the roof of the firebox ensures an even distribution of heat and no hot spots on the oven floor.
There's also an optional trolley, which boasts removable side trays for easy storage, utensil drawer/warming drawer (optional), lockable casters, wood stack, durable powder-coated finish and 2mm sheet metal construction. In addition, two 450mm-long stainless-steel flues, as well as one stainless-steel cowl comes standard.
The Wildcat 6000 stands 690mm high (plus flue), 600mm wide and 580mm deep, so it the perfect size to fit any outdoor room or alfresco entertaining area. The oven measures 230mm high, 400mm wide and 500mm deep while the firebox is 180mm high and 460mm wide. The trolley, with its removable shelves, is 1400mm wide with sides attached, 690mm wide without sides attached, and 480mm deep.
The Wildcat 6000 offers a plethora of features that makes it the must-have choice if you love cooking and entertaining outside. The features include a 50mm insulated firebox that is separate to the oven (therefore no ash contamination) and ensures long, consistent-heat cooking; an adjustable smoker; a unique adjustable baffle for rapid heat up and cooling; a rear heat shield, cool spring handles; very heavy-duty oven door handle; and a large cooking oven with built-in temperature gauge.
Call Wildcat Industries for your nearest dealer.
For more information
Wildcat Industries Pty Ltd Units 9–10, 355 South Gippsland Highway, Dandenong South Vic 3175 Phone (03) 8787 5000 Fax (03) 9799 0500
Website www.wildcatindustries.com.au