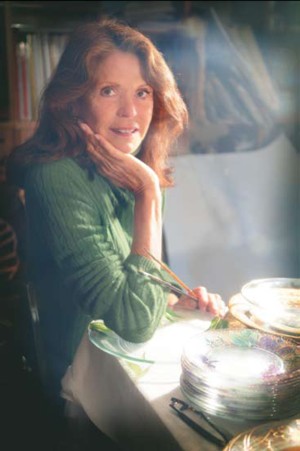 While Joy de Rohan Chabot's little classmates were starting to write their first words, Joy's artistic nature began to develop.
Drawing and the imagination played a far greater role for Joy than writing did and because she suffered from a rare form of dyslexia, Joy's drawing emerged as her means of expression to compensate for her condition. At just 17 years old, Joy was awarded a place at the École des Arts Décoratifs, a renowned French school of art and design. Determination and artistic ambition empowered Joy to make her passion into a profession.
Joy has green fingers. In fact, had it not been for painting, she would have aspired to become a gardener. It is not surprising that nature is her principal inspiration. From this artisan's earliest childhood, Joy dreamed of imaginary gardens, and this evolved naturally into a recurrent theme in her collections. She suitably describes her work as "poeticising reality". As an exceptional and multidisciplinary artist, Joy lets her talent find expression through a wide range of materials, including iron, wood and glass. This gifted designer really does it all — carving wood, polishing glass, cutting metal, gilding and much more. Her artistic skills produce original and dream-like pieces, which invite us to discover the highly personal universe that distinguishes her. Through her work, the artist's intention is to show how simple materials can gain a sophisticated, decorative and timeless identity. Joy is an accomplished designer, who forms her vision of her work and does not relinquish until the final stroke of the brush or chisel. She is equally at ease with both technical and decorative work.
Today her work is internationally renowned. In 2008, the Musée Jacquemart-André paid tribute to her, a true honour of recognition. A year later, on the occasion of the official Year of France in Brazil, Joy was the guest artist of Jorge Elias, who exhibited a large number of her works in his gallery in the heart of São Paulo. Joy is now engaged in creating bronze sculptures; flowers morph into chairs, butterflies are transformed into tables. Nature harmoniously meets design through her skilled hands. Her outstanding sculptures constitute an additional facet to her exceptional collections, with Joy's esteemed designs testament to her expansive talents and generous imagination.