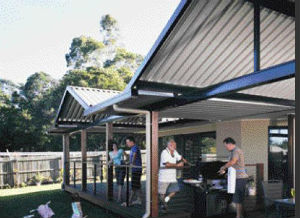 Extend your living area with a new patio, awning, shelter or enclosed outdoor room
In tough economic times it makes much more sense to improve and renovate your house and outdoor areas rather than move. And with interest rates the lowest in a generation, there really has never been a better time to invest in your family home and increase its value with a Spanline home addition.
Homeowners can optimise their indoor-outdoor living space and boost the worth of their home by investing in a patio cover, verandah cover, glass or screened enclosure, insulated roofing and wall panels, or a brand new carport or shelter … and who better to steer you through the process than Spanline?
Whether you're looking to build a fabulous new entertainment area or replace your existing structure, with a Spanline patio or awning you can protect your family and furnishings from the harmful effects of the elements. Perfect for alfresco dining, a sheltered play area or an intimate space for sharing quality time, a patio or awning is a stylish option.
Another way you can transform an unprotected area into a functional and practical space offering shade, shelter, protection and privacy, is with a Spanline carport or shelter. Available in a range of versatile designs, a Spanline carport or shelter will increase the value of your property.
If an enclosed purpose-built outdoor room is more what you're after, ask Spanline about their glass or screened rooms. Providing year-round protection from the weather and insects, Spanline's unique outdoor designs are tailored to your individual needs. Whether your home is traditional or contemporary in style, they have a design to reflect your personality and lifestyle.
When you deal with a Spanline team member you are dealing with someone who is fully trained and well versed in the local conditions and regulations. After all, every member of the friendly team at your nearest Spanline outlet is a local person, just like you. And you can rest assured that Spanline will manage all your building approvals and stay in touch with you throughout the entire design and construction process.
Thanks to Spanline's superior steel roof profile, completely integrated building system and innovative home addition designs, Australian homeowners can create their ultimate year-round lifestyle solution. At Spanline they know you take pride in your home which is why they take pride in their work.
For more information
Spanline Home Additions Phone 1300SPANLINE (1300 7726 5463) Website www.spanline.com.au