The purpose of the Pritzker Prize is to honour annually a living architect whose built work demonstrates talent, vision and commitment and who has made consistent and significant contributions to humanity and the built environment through the art of architecture.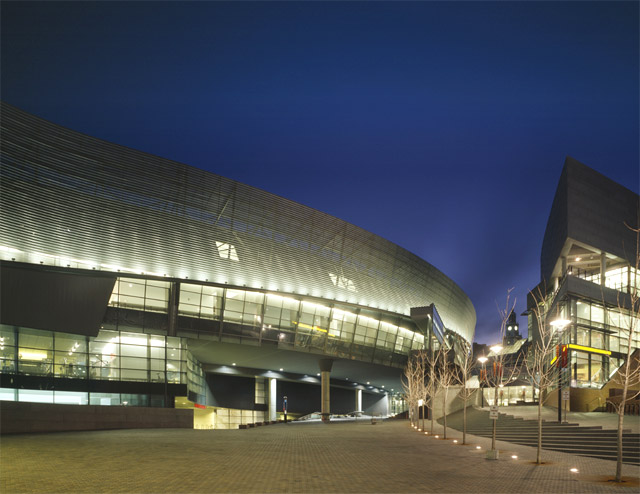 The award comes as Mayne's architectural firm, Morphosis, which built its early reputation with small, idiosyncratic projects, is winning huge commissions around the world. One of the most prominent completed projects includes the new Caltrans District 7 Headquarters, an expansive community centre in downtown Los Angeles. 
Mayne is the first American architect to win the prize since Robert Venturi in 1991 and the first from Southern California since Frank O. Gehry in 1989. He accepted the Pritzker Prize at a ceremony on May 31 at Millennium Park's Jay Pritzker Pavilion, an outdoor concert space in Chicago designed by Gehry, the architect responsible for the Bilbao Guggenheim Museum in Spain. 
For Mayne, 61, the location is fitting. "Frank was almost exactly my age when he won the Pritzker," he said. "And he did with it exactly what you should do. Instead of settling into familiar projects, he tried to experiment even more, change things up and keep growing. I think it's a lovely model to follow." 
Mayne's refreshing approach toward architecture and his philosophy are not derived from European modernism, Asian influences, or even from American precedents of the past century. He has sought throughout his career to create an original architecture, one that is truly representative of the unique, somewhat rootless, culture of Southern California, especially the architecturally uninspiring city of Los Angeles. "There is a real authenticity to the work that we liked," said Gehry, a member of this year's Pritzker jury. "There's no denying he has carved out his own path and hasn't strayed from it. He's not copying anybody else." 
Another juror, Karen Stein, editorial director of Phaidon Press in New York, praised Mayne for designs that "see architecture as a contact sport; a group activity that pushes physical limits, in this case of form making. From his earliest complex, multi-layered drawings to his more recent completed buildings, he has used the latest technologies as both theme and apparatus of his designs, creating a body of work that has consistently explored and expressed architecture as a risk-taking, visceral experience." 
Although Mayne tends to describe his architecture as progressive and optimistic, others see its forms as alienating, even nihilistic. The Caltrans District 7 Headquarters building is a case in point. Important amenities for the public, including a cafeteria, a large public outdoor lobby area and an exhibition space are an important element of the design, intended to create a building that contributes to the civic life of downtown Los Angeles. In a key design gesture, Morphosis moved the main lobby from the inside to the outside to create an outdoor room for 1000 people, with café tables to be shared among building workers, visitors and the general public. Its somewhat monolithic street façade is enlivened with a skin of aluminium panels that open and close in response to the amount of sunlight on the building. 
The building's equally innovative south façade is entirely surfaced with photovoltaic cells, which will generate approximately five per cent of the building's energy. The photovoltaic wall is in keeping with the mission of the Design Excellence Program to find environmentally sensitive design solutions that will allow the building to achieve an above-average energy rating from the US Green Building Council. 
"The design is all about connectivity," says Mayne, citing the gathering spaces on its broad plaza and skip-stop elevators that he says encourage employees to walk between floors and interact with one another. "I absolutely see it as hopeful. You simply can't put in the kind of energy and passion that's required to complete a design of that size if you don't feel that way." 
Mayne has numerous other Southern California landmarks: the Science Education Resource Centre/Science Centre School in Los Angeles; the Diamond Ranch High School in Pomona; two Salick Medical Office buildings on Beverly Boulevard in Los Angeles; and several distinctive private residences. Mayne is also currently working on the Cahill Centre for Astrophysics at the California Institute of Technology in Pasadena, California. Nationally, Mayne is completing three projects of major importance for the United States General Services Administration's Design Excellence program including a Federal Office Building in San Francisco, California, the Wayne L. Morse United States Courthouse in Eugene, Oregon, and the NOAA Satellite Operation Control Facility in Suitland, Maryland. 
Stepping back to the early years, in 1977 Mayne enrolled in a one-year master's program at Harvard's Graduate School of Design. It was there that his signature approach began to emerge, mixing the progressive ideals of early Modernist architects with his admiration for defiant '60s-style activism. 
After Mayne returned to LA, Morphosis found some heartening local success in the 1980s. But the recession of the following decade hit the firm hard. The office, which had grown to 20 people, shrunk to about half a dozen. Notable residential projects from this era include the Crawford House and the Blades Residence. 
Over the past several years, however, institutional and governmental clients have embraced Mayne. Last year, Morphosis landed its biggest commission yet, a residential development in New York that would serve as the Olympic Village for the 2012 Summer Games. Mayne hopes the $1.6-billion complex, designed to house as many as 18,000 people on a 24.7-hectare waterfront site in Queens, will be built even if the city loses its Olympic bid. The firm now employs about 35 people. 
Mayne's other distinguished honours include the Rome Prize Fellowship from the American Academy of Design in Rome (1987), Member Elect from the American Academy of Arts and Letters (1992), the 2000 American Institute of Architects/Los Angeles Gold Medal in Architecture, and the Chrysler Design Award of Excellence (2001). 
A Brief History of the Pritzker Architecture Prize:
The Pritzker is often called the Nobel Prize of architecture because of its prestige and because it honours an architect's body of work rather than a particular project. When Chicago's Pritzker family, founders of the Hyatt hotel chain, established the prize in the 1970s, they did so in part because the Nobel Prize did not include an architecture category. 
The first Pritzker Prize, in 1979, went to Philip Johnson. In the years since, it has been awarded to elder statesmen, Danish architect Jørn Utzon won in 2003, more than three decades after designing the Sydney Opera House and younger, more experimental figures such as last year's winner, Britain's Zaha Hadid, the first female laureate. Internationally celebrated Australian architect, Glenn Murcutt, took out the prize in 2002 in a presentation at Rome's Campodolglio Piazza. 
Laureates of the Pritzker Architecture Prize receive a $100,000 grant, a formal citation certificate and, since 1987, a bronze medallion.

For more information on the Pritzker Prize, visit http://www.pritzkerprize.com/