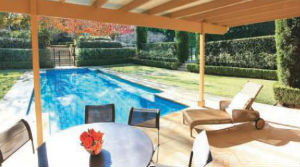 From the cabana to the pool, this fully integrated design provides the total package
The design of the exte nsive exter nal are as of this large property on Sydney's lower north shore was entrusted to landscape architect John Storch, founder of A Total Concept. The project included the creation of a poolside cabana for relaxing and socialising set within traditional lawns and gardens, as well as a large formal swimming pool and a tennis court.
The owners now use the cabana, pool and tennis court for entertaining both friends and business associates, while swimming the length of the pool ensures they receive sufficient exercise to counteract the many meals enjoyed alfresco.
"The traditional style of the poolside cabana, together with the formal layout of the extensive paved entertaining areas, pool, lawns and plantings in the gardens, ensures that the overall project is in keeping with the stately home," says John.
"The poolside cabana has been designed with built-in cabinetry incorporating a sink, wine fridge, bar and a bathroom facility with shower, WC and basin," he adds. "At night the cabana is well lit with LED down lighting in the ceiling. This, in combination with the energy efficient LED lighting throughout the garden areas, creates myriad moods, thanks to the effects of the washes of light and dancing shadows."
For ease of use, the quality internal and external sound system, together with all electrical components such as lights, irrigation, pool heater, pool lights and spa jets, is linked to a smart home system.
The interplay of every element has been well considered. The sparkling water of the fully tiled pool, for example, contrasts beautifully with the sandstone paving. It also blends well with the porcelain tile used inside the cabana and the dappled greens of the gardens and lawns. The plant selection was equally meticulous and includes Japanese box, English box and port wine magnolia for formal hedging along with pencil pine, snow-in-summer, clivia and gardenia.
"The end result is a beautifully integrated sporting and entertaining complex for the owners of this stunning property," says John. "The visual simplicity of the design and subtle use of quality materials unifies the project and sets the components well into the surrounding landscaped gardens to create a private resort."
An established, award-winning practice, A Total Concept specialises in the creation of fully integrated outdoor rooms, cabanas, pools and gardens for projects ranging from simple family homes to elaborate residential properties and boutique or resort-style developments. A Total Concept brings together all aspects of a project. This might include specifying pool equipment or choosing materials and colours, cabana fixtures and fittings, paving, landscape lighting and plants. Services include consultations, designs and specifications, council approvals, builder recommendations, total project management and contract administration.
Project details
Landscape design and project management by A Total Concept 65 West Street, North Sydney NSW 2060 and 21 Ellalong Road, Cremorne NSW 2090 Phone (02) 9957 5122
Mobile 0407 245 201 Email design@atotalconcept.com.au Website www.atotalconcept.com.au