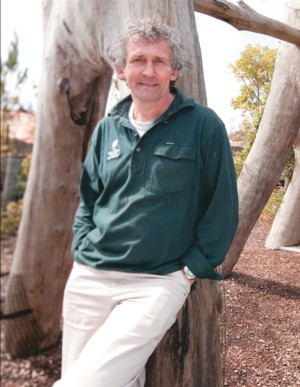 In conversation with John Arnott, Manager Horticulture at the Royal Botanic Gardens in Cranbourne
Originally hailing from Perth in Scotland, John Arnott's family migrated to Australia in 1966 when he was just four years old. He spent his early years in Frankston and now lives in Ashwood in Melbourne's southeastern suburbs. John is married to Lisa, a mothercraft nurse, and they have two children, Daniel and Amy, both students. Dogs Pippin and Tilly complete the family. John has been employed in public gardens all his working life; you could say he's a product of public garden horticulture. He started his career at the Melbourne Zoo just when it was being transformed from the old-fashioned concrete cages with bars to a more naturalistic environment where planting and landscaping are integral components of the enclosures/exhibits. The zoo was a great training ground for John and a really exciting horticultural landscape, so it was no hardship for him to spend nearly 20 years there in a number of roles, from technical through to horticultural management.
In 2000, John headed down the highway to the Geelong Botanic Gardens where he was lucky enough to be involved in the 21st Century Garden Project. This project was the catalyst for reinvigorating the Geelong Gardens. The fourth-oldest botanic garden in Australia, it's a fine example of a heritage landscape, boasting 100+-year-old trees. The 21st Century Garden Project provided opportunities to make the botanic gardens more modern in design and focus on a range of issues such as sustainable horticulture, dry-climate gardening and plant conservation.
John loved his time at Geelong and it made him happy that the gardens became known as a community and horticultural hub. From there, he took on a number of short-term roles, working for the City of Melbourne and at Wilson Botanic Park in Berwick, before settling into his current role as Manager Horticulture at the Royal Botanic Gardens Cranbourne — his dream job.
What do you grow at home… Edibles… Ornamentals?
My garden is an interesting one. The front is a cottage garden, but not a classic one in that I have introduced a range of succulents and dramatic foliage plants among grey foliage and flowering perennials. We don't water our front yard at all, so the plants have to be really tough! If they don't survive without additional water they are not going to cut it in our front garden. We planted our nature strip, too, with a range of tufted plants and flowering perennials, so it's pretty clear whose garden in the street is the one owned by one obsessed with plants. The back garden is an interesting mix of local grasses, wildflowers and native trees with a small (irrigated) vegie patch and a garden full of screening plants and salvias hiding the shed next door. It's a bit wild, the backyard, but it sort of works.
Were you always as passionate about gardens?
Yes. My parents had a large vegie patch and I would tend the garden often. I remember getting a real kick out of digging potatoes out of the earth — something really satisfying about that. Our garden was very large — at least two standard house blocks — and an irregular shape. It was an old farmhouse and the owner maybe 70 years earlier had planted lots of interesting and quite unusual tress, such as a large ginkgo, a copper beech, a huge Moreton Bay fig, lillypillies, viburnums, magnolia, orange trees and so many others. I mowed the large lawn for pocket money. It was a great garden and I do really feel that this garden influenced where I ended up in my career.
What growing methods did you use in the past?
I wouldn't consider myself a great gardener, which may sound a bit odd coming from where I am and what I do for a living! What I think I do is I understand plants and good plant selection. I aim to match the plants to the local conditions, which would be my main tip for successful gardening: don't try to grow something in an area where it's really not suited because you're fighting nature. I know I am also a lazy gardener and, as such, I haven't set up our garden to be one that requires a lot of care and attention to keep it looking good. So there's a lot of shrub mass and groundcovers to suppress weeds. I don't have a lawn and the entire garden is covered with a layer of mulch.
What is your opinion on chemicals versus the organic approach?
Organic wins hands down. Synthetic fertilisers and pesticides  will push plants along and, superficially, you can end up with stunning-looking plants with lots of vigour, but if you're growing plants for food there's no real comparison. There is a good reason why homegrown tomatoes grown with compost taste so much better.
Tell us about Indigenous/Native foods.
There is an emerging interest in native food plants but I think we have a long way to go before Australian natives have been fully integrated or incorporated in the average suburban vegie patch in Australia. One of the aims of The Australian Garden [at the Cranbourne Botanic Gardens] is to showcase some of the more available bushfoods and in Stage Two of the Australian Garden (Opening late 2011) there will be an area called How to Garden, which will display this range.
What are your views on the environment?
While in recent times, southeast Australia has enjoyed close to average rainfall, long-range climate predictions continue to forecast a high likelihood of hotter and drier conditions for our region. Given that, practical approaches to gardening in a drier climate remain relevant and important to consider. Biodiversity and natural area conservation are also major interests of mine. Working at the Cranbourne Botanic Gardens is the ideal situation for me as I believe this garden addresses the conservation of natural environments and wildlife habitats as well as being a display garden of Australian native plants that gives people ideas on how to approach gardening in a manner sympathetic to the environment at large.
What changes have you made to help the environment?
At home I have a garden that is hardly watered. It's a garden with numerous "rooms" but they all are based on sustainable horticultural principles and practices.
Where do you buy produce?
A variety of sources. I love the local farmers' market and markets generally, though I still visit the major supermarket chains to purchase produce because they are so very accessible at all times of the day. They are really convenient and I do frequent them to buy produce. I would, of course, prefer to support the markets but can't always find the time to do that.
How can we better the quality of fruit/vegies in retail stores?
Buy organic. I reckon if more people would buy organic vegies, the prices might fall based on quantities of scale. It does seem odd that organic is touted as the alternative, doesn't it…?
John's Tips
• Know your site. A basic site inspection is a great way to better know and understand the conditions in your garden. Consider things such as soil type. Are there different microclimates, shade from trees or exposed areas with little protection? Understanding these variables is important as locating plants in the right spot in the garden will greatly aid their chances of thriving.
• Select the right plants. Matching plant selection to your local conditions is the key principle of sustainable horticulture. By selecting species that are well adapted to the prevailing environmental conditions of your garden you're almost guaranteed success.
• Make effective use of Mulches. Mulch is marvellous. There are two categories of mulches: organic and inorganic. Both have their benefits and some drawbacks. Organic mulches condition the soil, help retain soil moisture, regulate soil temperature and help to suppress weeds. The downside of organic mulches, particularly those made up of fine particles, is they absorb a lot of water and if they're applied too thickly (greater that 5cm), water may not actually percolate through the mulch layer and into the soil where it's really wanted. So don't be too heavy-handed with the organic mulches. Inorganic mulches are becoming more and more popular. They don't absorb water and allow it to penetrate to the soil. They are very long-lasting and can add an aesthetic element to your garden design. Their downside is they don't condition the soil or add organic matter.