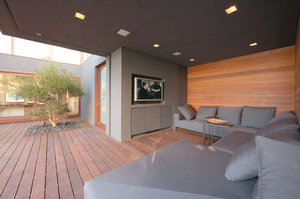 Earlier this year, French company PPR SA — the name behind such prestigious brands as Gucci, Yves Saint LHaoumreen, t and Bottega Veneta — released a sleek, $15 million film about the environment. While the feature-length documentary clearly had a serious story to tell, it was one the company hoped would also resonate with consumers increasingly demanding quality and environmental credentials, a trend that has led some to call green the new luxury. Home entertainment has heard that message too. Almost daily, there are new announcements from leading companies about energy-efficient t elevisions, less power-hungry appliances, sustainable packaging, eco-friendly components and smarter designs. They're also letting us get closer to Mother Nature in much more direct ways, as options to enjoy digital media on patios, around the pool, on rooftops and in every corner of the garden get a breath of fresh air.
The green screen test
It's welcome news, of course. Worldwide, the headlong embrace of d igital gadgets is expected to keep pushing energy consumption up a nd digital media components have certainly contributed to the rise over the past decade. Here, residential energy use is expected to grow by more than 50 per cent by 2020, with televisions — and there are nearly three in every home — now the fourth-largest user of electricity, behind water heating, fridges and lighting. The good news is that home entertainment's digital footprint is improving as government, appliance makers and the public get behind higher standards. A new global study says that looks like it's happening quite fast. According to DisplaySearch, around 20 per cent of the world's flat-panel televisions had green features last year, but the figure will be 70 per cent in three years from now. New television star rating systems both here and the States should also help, a trend that's predicted to have a big impact on the way home entertainment components are developed and designed over the next decade. Australia's voluntary 10-star system rates all televisions on their electricity consumption — just the same way whitegoods and other appliances do — and it's expected to get tougher over time as the four stars become the minimum by 2012. Already companies such as Sony, Panasonic, Sharp and Samsung have signed on, with their most recent product launches here all touting much better energy performance — something that consumers say they now want, according to Choice Magazine. That won't be the end of it either. Government regulation looks like getting more stringent — California is proposing cutting TV power use in half by 2013 — while action on issues such as standby power, packaging, shipping and transportation are all gaining ground. In fact, the future could already be here, according to electronics giant Sharp and The Home Theatre Specialists of America. They recently joined forces to launch what they're calling the Guiltless Green Home Theater , a setup which gets all its power from solar panels.
Here comes the sun
While most of us might have to wait a little longer to get true energyneutral home entertainment, we can embrace the environment on a daily — and more personal — basis by taking our media with us when we step outside. In fact, outdoor entertainment has become big news as the range of products that work in tough conditions expand and come down in price, at the same time that the living areas of our homes and apartments continue to blur the lines between what's in or out. "This is seeing big growth right now," said Mark Jeisman from Custom Surround in West Australia. "Maybe it's the Australian lifestyle, but people are beginning to expect to have the same entertainment choices on the deck or the balcony as they've grown used to inside their homes. The ability to provide great cinema, music or other types of entertainment outside has just grown as the manufacturers have improved cabling, technology and component standards that can deal with nature." In fact, sun and heat are not the only things you'll have to think about when you shift the pictures and sounds outdoors. Corrosion, water, dust, wind, light, contact, damage and noise are all part of the backyard environment and need to be thought about carefully. Luckily, there's now a booming market in components such as televisions, screens, wiring and speakers that can come with International Protection rating — usually referred to as IP Code — to indicate their ability to withstand the elements. "Even with many of these weatherproof claims though, it's still smart to ask questions about the sorts of conditions they can stand, and even if they can be in an exposed position or merely undercover," Mark added.
Sight and sound
Like a great movie, outdoor home entertainment needs structure and direction to make sure it hits the spot. Visuals are clearly one of the most important factors to get right and what you end up with depends on the sort of outdoor experience you're after. According to Carlinea Williams from Herma, which wholesales screens and LCD televisions that can work outside, the durability of visual components has been a big factor in the growth of outdoor cinema. "Weatherproof LCDs have sparked a lot of interest and these can be watched at any time of the day," Carlinea said. "A more full-on outdoor cinema using a projector and some sort of screen is a night-time option only, but when it's done right it's a truly magical experience." A cinema will require much more thought than say a TV as housing the projector — given they don't yet come with any IP — needs to be dealt with. The sort of screen to use — framed or unframed, on a roller or motorised, or one that is more portable like some of the inflatable screens that are now being marketed — is also part of the outdoor equation. And while audio has been an option outside for most people for a while, theatre-quality or high-fidelity sound probably hasn't been. This, too, needs good planning and great components, especially given the myriad number of factors that can wreck a soundtrack or even disturb the neighbours. While achieving surround sound on a deck or in a cabana can be relatively straightforward, getting that effect around a pool or in different parts of the garden is another thing entirely. Options such as camouflaged speakers — yes, you can get them as rocks — those that are built into the ground, or those that are simply flush-mounted or disguised into other surfaces are all now available for a broad range of prices.
Networks inside and out
If home networking control over all your home media components is increasingly being stretched to manage lights, security cameras, airconditioners or even motorised windows inside the house, it's probably even more practical outside. For a start, having remote access to all that stored content, be it music, video, photographs, movies or the web, makes being outside that much more convenient, allowing complete flexibility about how, what and when you'll be entertained. But by stretching the in-house or in-garden IQ you'll also be able to manipulate lights all around the house and garden, check who is at the front door (and let them in), re-jig heating or cooling options and, in really highend installations, even get the meal going in the kitchen. "This sort of control just makes a lot of sense when you're relaxing outside," James Stewart of Fi Smart Homes said. "While being able to reach in remotely and manage things inside the house is great, the ability to set lighting moods outside or even control water features adds a whole other layer to the experience. It makes energy sense as well." James added. "Why waste electricity inside the house with lights or airconditioning that no one is using when these can be programmed to work at less power or be turned down while enjoying a movie, or meal and some music, outside?" And the great thing is that a number of the latest remotes are not only waterproof, but some can even float. The movie treat ment While all home technology requires good professional advice, this is doubly important when attempting a high-tech exterior. Most installers will tell you that cables and wires will deliver a better movie experience outside — one experienced installer summed this up by saying "cables are king" — as wireless continues to face problems with performance especially as we move into a more high-definition, online video future. And that means thinking about locations of speakers, screens, televisions and projectors very carefully as landscaping and cable conduits will have to figure into any work that's undertaken. Location might be important when it comes to real estate overall, but it's just as crucial with home entertainment outside. Not only do you have to think about the people who live near you, but you'll want to sort out where you'll most likely be when you want to enjoy movies or music. "Often the best sound is outside in the garden, but you've got to make sure you do your homework," Dave Vale from AVD said. "For instance, most people assume that your sound should be directed away from the home, but it works best firing the speakers from the garden back at the house. "Getting these things right not only means getting good professional advice, but looking at how to blend the hardware into the natural aspects of your garden, terrace or balcony without it standing out," said Dave. "The minimal look is just as important outside as in these days."
You can take it with you
Of course, life has gotten a lot more mobile and that's looking just as true for cinema and sound on the go as well. In recent years, a whole bunch of tiny, portable projectors and screens have appeared that give new meaning to convenience, making them ideal for the quick and simple outdoor movie event. In fact, you can be spoilt for choice these days as companies such as Epson, Canon, Visimax, Toshiba, Dell and Mitsubishi, to name a few, continue to release models and accessories to deliver the movable image. One of the newest is the Joybee GP1 mini pico projector from BenQ that uses a 20,000-hour LED lamp and includes a USB port so that you can put all your media on a thumb drive. You can also connect a camcorder, DVD player, TV, video game console, laptop or even an iPod and with some file conversion, watch what you like. Some of them, such as the Optoma Pico Projector, which can work with an iPod video, are minuscule as the technology gets squeezed into ever more tiny packaging to deliver surprisingly clear images. Of course, the same issues go for a portable projector as a fixed one — they only really work at night outside — and you can't expect the same sort of image quality as you would with a fully installed system. However, they do mean you can unplug and take them back inside when you want.
Green with envy
New technologies and better components mean much more flexibility about out-of-doors home entertainment these days, and that's sparked a whole new level of creativity. Gone are the days of clunky speakers hanging off walls or eaves, even chunkier televisions wheeled out and forgotten — or worse, viewed through the lounge room window — sound gone with the wind, or movies all but obliterated by glare and reflection. Designers, architects and installers have responded to the new technology and are really stepping out into the light to make the most of external walls, pools, landscaping, terraces, balconies, cabanas and even rooftops. As Mark from Custom Surround pointed out, "There's an explosion in outdoor media demand now and the sorts of solutions we can offer have just gotten so much better, too." And while the outdoor experience is getting slicker and better. There are also a few simple things you can do to make it as green as the garden as well. For a start, ask questions about the environmental and energy performance of all appliances and components, choose LCD over plasma if you can — and LED backlighting if possible — and remember to turn off gadgets at the wall once you're finished so that they don't use any standby power. Oh, and remember to turn off all the outside lights when you go to bed!