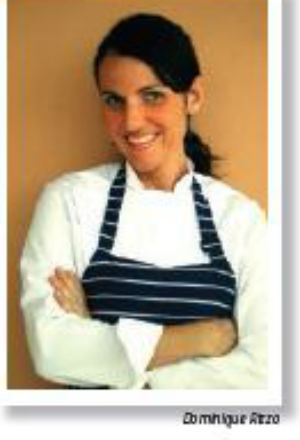 Dominique Rizzo is well-known for her time on TV's Ready, Steady, Cook as well as her more than 15 years experience as a chef and her food education business, Pure Food Cooking. 
"I am deeply passionate about creating innovative food using quality safe and clean fresh produce. Being of Sicilian heritage, my heart lies naturally within the pages of Italian cuisine, while my inspiration takes me — and you — on a culinary journey of world food flavours," Dominique says.
The aim of Pure Food Cooking is to inspire others to cook with whole foods and seasonal local produce to improve health, balance and vitality. Dominique is resident chef at Grass Tree Cooking School, where she shares her knowledge and passion for excellent food and nutrition.
"I love the essence of clean, simple whole food cooking. There are still so many flavours that I have yet to explore. It is so wonderful to be a chef and to have available at my fingertips an amazing palette of different flavours and textures to create what I like to call little mouthfuls of flavour explosions," she adds.
What, or who, was your inspiration to start cooking?
I really feel that it was my trips to Italy as a young girl that inspired my love for food. I enjoyed being in the kitchen when I was little and loved baking and then eating the freshly baked treats.
What do you love most about what you do?
Meeting so many people when I am out and about cooking and talking and working with our fantastic producers that we have here in Australia.
What is your kitchen like at home?
Never big enough. I have a huge walk-in pantry, two ovens and gas cooktop. It's bright and airy and works really well as a functioning kitchen as everything is at arm's reach.
Is there anything you'd change in your home kitchen?
Yes. I would love more bench space and, after putting in a gas stove, next time I would definitely go for induction — actually, a whole other kitchen for recipe testing would be great.
What is your favourite meal to cook for family and friends?
Fresh herb and lemon roasted chicken with a potato pizzetta and a fantastic bowl of green leaves with verjuice dressing or steamed greens with garlic, almonds, chilli and olive oil.
What is your top indispensible item in the kitchen and why?
My Sunbeam stick blender and mini processor and, of course, my Microplane. Okay, that's two!
What's next for Dominique Rizzo?
My cookbook comes out in October, which is a celebration of Sicilian cooking from my family. I am heading overseas this year to finalise details for my food tours to Sicily and continuing my cooking classes, recipe writing and demonstrations around the country promoting great food and our wonderful local produce.
DETAILS
Dominique Rizzo, Chef, Pure Food Cooking 
Mobile: 0434141322
Website: www.dominiquerizzio.com
Email: info@dominiquerizzio.com