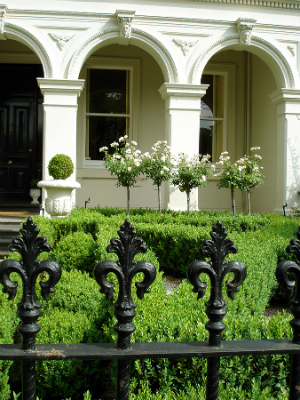 A garden makeover is something most of us will tackle at least once in our lives, so we share some expert advice on how to smooth the way
Story: Chris Miller
President, AILDM
At some stage in most people's lives, their garden will no longer meet their needs. This may become immediately apparent when they move into a new house (assuming it has an established garden) or when the makeup of the family changes as children arrive — or move out. When the latter happens, or should you lose your mobility, that swimming pool that once seemed such an asset can start to feel like a liability.
Whatever your reason for wanting to make a change, the process you need to go through to revamp an external space is pretty much the same. Planning and research are essential to work out what existing garden elements are no longer desirable and what new ones will make a positive difference.
When moving into a new property — whether the house will remain unchanged or not — don't rush straight into changing things. Take time to see how the garden meets or doesn't meet your needs, how it connects with any planned building changes and how it behaves in different climatic conditions and in different seasons. Take notes — it's easy to forget that that unbearable spot in summer may be just right in winter. By doing this kind of research, you can get a realistic appraisal of your needs and how you are most likely to use your garden.
Take stock of all the various elements of your garden: carry out a site analysis looking at aspects such as soil and drainage, light and shade, slope and levels, views out of the site and sightlines within it. Look at the health of the existing plants and consider how they, and those in neighbouring properties, will develop over time.
Measure your site and make sketches to "try out" various arrangements. Don't forget to consider the utility areas: where and what sort of clothes lines will fit best, where will compost, recycling and garbage bins be located? Consider water tanks — what volume, shape and location will work best.
What is the regulatory environment? Read your local government development control plan (DCP) or local environmental plan (LEP) as a first port of call. Consider your natural environment — are you adjacent to bushland or waterways? Do heritage issues affect you? Consider and consult your neighbours if there are significant structural changes or planting envisaged — so many poisonous disputes have started by inappropriate plantings affecting neighbours' views or light.
Look for ideas in magazines, books and any other media. Drive around or, better, walk around your neighbourhood and see what grows well in similar aspects.
Think about theses macro issues first before getting to the micro issues such as materials and finishes. These are important considerations, too, of course, and many materials suppliers have excellent display areas to help you envisage the finished appearance of a structure in a way that a photo in a catalogue or brochure cannot.
All these considerations affect one of the most important project parameters: budget. Try to scope the project to what you can afford rather than trying to scale back once it's under way and, remember — it will always cost more than you think. It's fine to phase the project over a number of years so parts are completed at different times, but its pointless doing one part and chewing up the budget for the next 10 years.
It's obvious that all these things take time and that's where a landscape design professional can help. They have the experience and expertise to assess the site's potential more quickly and come up with design solutions that are practical and aesthetically pleasing. A good designer will be aware of all the design constraints and parameters and will try to scope the project to fit a budget.
If there are structural changes envisaged, a development application (DA), which can be an expensive and time-consuming process, will most likely be necessary and a design professional is usually experienced in these matters. Other consultants such as a geotechnical engineers or an arborist may also be needed.
Some garden makeovers are done to make a property more presentable for sale and, when well executed, even recently completed landscaping will make a positive difference. It's important, however, that work undertaken with a view to better marketing the property is done properly. A hasty and poorly executed job is easy to spot and not only represents an additional cost to the buyer, who will no doubt want to re-do the job the right way, it suggests there may be other problems within the home that have also been "papered over"