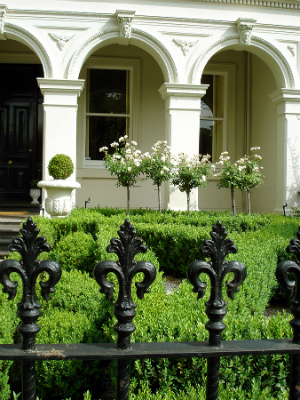 For instant impact, why not look for the 'silver lining' when choosing plants for your garden?
Story: Emily Coakes
We all want to see the brighter side of life. Whenever things become too much and we need a place to relax and unwind, we look to our gardens and outdoor spaces to provide us with a sense of peace. That is why we strive to create outdoor living spaces that are an individual expression of our lifestyles; somewhere we can entertain, reflect or rejuvenate.
If you want your garden space to have a character that is uniquely yours, there are a few clever tricks that can be used to create visual impact and provide a sense of continuity throughout and they don't require extra work, expense or expertise.
A simple and effective way to build an outstanding garden theme is to use plants that work together within a group of colours or tones. Silver foliage in particular has been used in many gardens where it has been revered for its ability to stand out amid a 'sea of green'. Used as a mass colour scheme, silver (which means, in reality, plants with tones or hints of grey) has a heavenly presence that calms and harmonises. Intersperse it with hints of white and you can easily combine a whole range of different plants and still achieve a unified design.
This idea can be employed within a small section of the garden, on a balcony in a series of pots, or carried throughout the entire yard. Large or small, the gentle glitter and subtle glow of silver foliage will always stand out and impress among the rest.
Start by selecting from the huge range of silver cottage plants and grey sculptural succulents. These are easy to find and a great way to embark on your new-found career as a collector of silver foliage plants.
Among myriad wild and wonderful cottage plants available at your local nursery or garden centre you will find Cineraria 'Silver Dust', which boasts richly textured velvet foliage. A wonderful border plant, it can be purchased in punnets and can be used to great effect as a highlight in your silver theme. Cineraria 'Silver Dust' is a versatile plant that will tolerate light frost and some humidity and as such can be used over many different climates.
For those gardening in the southern regions of Australia, Convolvulus cneorum (also known as silver bush) is a delightful small shrub reaching one-metre-tall that will reward you with masses of white flowers set amid soft, silvery leaves.
A relatively new release set to take us all by storm is Dichondra 'Silver Falls'. This is a hardy, eye-catching trailing plant that looks magnificent when used as potted fare or as an under-storey plant beneath an upright grower such as Dracaena draco (the dragon tree). An effective groundcover plant, Dichondra 'Silver Falls' makes for a daring rival to its greener counterparts, beckoning like a stairway to heaven.
The old-fashioned lamb's ears (Stachys byzantina), which have a thick layer of downy 'hair', are not be outshone in the texture department and will also combine nicely with a whole range of shrubs and grasses.
For a bold statement try an Agave attenuate. Growing to one-metre in height, the rounded plant has soft-tipped foliage and is perfect for dry gardens and pots. Surround it with crowds of Kalanchoe thyrsiflora 'Flapjacks' — a popular succulent with leaves that boast blushing red rims — and you will be hard-pressed to fault the visual splendour.
Another way to make an impact in the garden is with Echeveria glauca. Panted en masse or used as a border, these dusky-grey succulents that produce fleshy rosettes will contribute sweeps of soft, silvery colour with a hint of blue-green.
Aptly named, Dianella 'Silver Streak' is a clumping, strappy-leaved hybrid bearing broad strokes of white set against stripes of grey-green. When mass-planted and viewed from a short distance, they take on a silvery-white appearance. Tolerant of coastal conditions and exposure to wind and periods of dry weather, this plant will perform in the toughest environment. Another stunning plant with strappy leaves is Liriope spicata 'Silver Dragon', prized for its creamy, silver-variegated foliage.
Still want more? Silver foliage can be found in every genre of plants, from climbers to trees, shrubs and grasses. Don't miss the coniferous splendour of Juniperus scopulorum 'Pathfinder'. It reaches 1.5 metres tall and its generous profusion of green-grey foliage will provide the perfect focal point to your silver scheme. Cupressus glabra 'Blue Ice', with its silvery blue leaves, will help set the scene for larger gardens, growing to a stately 5 metres tall.
Whether you're the type of person who prefers a low-maintenance outdoor space or you're a genuine green thumb gardener, you can enjoy the beauty of a silver-themed garden. And you can be assured that there are silver hues — ranging from blue-grey to green-grey — and a host of wonderful whites to suit all styles of garden.
This article was prepared by Emily Coakes, a landscape designer and horticultural consultant with Boyd's Bay Landscape & Environment, on behalf of the Australian Institute of Landscape Designers & Managers (AILDM). If you would like to find an AILDM member in your area, visit the website: www.aildm.com.au.
1. If you want a dry-tolerant silver-themed garden, there is an abundance of hardy grey-green and grey-blue succulents you can use to add interest and texture. 
2. Convolvulus cneorum (or silver bush) is a delightful dry-tolerant small shrub/groundcover with soft, silvery leaves and masses of long-lasting white flowers.
3. Ideal for mass-planting, Dianella 'Silver Streak' is a clumping, strappy-leaved plant that has long, grey-green foliage bordered by a perimeter of white.
4. Many grey-leaved plants derive their 'greyness' from a layer of leaf hairs. Among the better known of these is Stachys byzantina (or lamb's ears).
5. Cineraria 'Silver Dust' is a versatile plant that will tolerate light frost and some degree of humidity, which makes it suitable for a variety of climates.
6. & 7. Forming tight clumps of fleshy rosettes, the foliage of the various Echeveria species — a hardy succulent — can range from a blue-grey to a green-grey.
8. Buddleja 'Silver Anniversary' (also known as butterfly bush) has eye-catching felt-like silver-grey foliage and is a great addition to the cottage garden.
9. Euphorbia 'Silver Swan' is a cold-hardy perennial that gives an impressive display of silver foliage all year round. It is also extremely drought-tolerant.