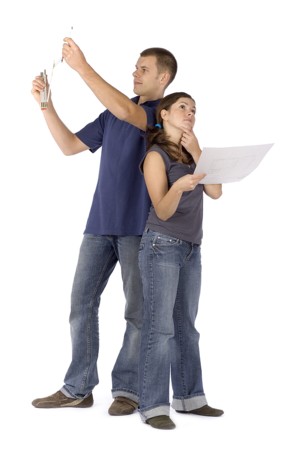 Everything you want to know about renovating and extending, but were too afraid to ask … now you can "Ask A Professional"

Sharon Campbell, from the Whitehouse School of Design, answers our readers' questions. If you have any questions you would like to ask, send them to thordern@universalmagazines.com.au.
Q: I want to renovate my small one-bedroom apartment to sell. What are some of the essentials I need to include?
A: If you want to make an impression with potential buyers, you can't go past including a renovated kitchen and bathroom, loads of cleverly concealed storage and, as a bonus feature, connection to an outdoor space.
It is a good idea to speak to real estate agents in your area to see what the trends are in your suburb. This will also help to ensure you do not over-capitalise on your investment. Try to find out about the rise in property prices, and specific features that buyers are looking for. A dishwasher is a great feature in an apartment kitchen, but you may also find it is worthwhile to use integrated appliances.
Since it is a small home, you want to avoid making it look any smaller, so keep the renovations as simple as possible and take advantage of natural light and ventilation.
Try to enhance the sense that spaces flow from one room to another by limiting the palette of colours and materials and maintaining the same floor finish (or at least the same colour) throughout. Light-coloured walls and ceilings should help the apartment seem more spacious.
Storage is always important, so extend built-in robes and kitchen cupboards to the ceiling; just make sure that the design complements the existing structure.
Remember to use space wisely — for example, you may find that removing the bath frees up space for a luxurious shower and vanity or an internal.
Avoid fussy details or feature tiles and patterns. Remember that you are trying to attract a greater number of interested buyers who may have different tastes to your own.
Q: All the kitchen designs we see don't seem real to us. We want a home that can be lived in, not a showroom, but we want it to be stylish as well. How can we design a 'real' kitchen?
A: Most photos in magazines are styled without the clutter of everyday life … it would probably look a bit too real if you saw a pile of dishes in the sink, a pot on the stove, breadcrumbs on the benchtop and someone yawning in their pyjamas.
The kitchens you have seen might simply not suit your lifestyle and tastes. Here are a few things to keep in mind if you want a warm and welcoming feel.
Materials can be warm or cold — for example, a white kitchen with stainless-steel benchtop will look much more clean and clinical than a timber kitchen teamed with warm tones.
Lighting will also impact upon the space; avoid harsh lighting and if using fluorescent bulbs, you may want to try the 'daylight' option.
The spatial arrangement will influence how you use the kitchen. Typically, a plan arranged around an island bench will create a gathering space in the kitchen.
Designing for natural light, views and connections to outdoor spaces can create a much more relaxed feel.
Here are a couple of tips when planning your kitchen:
• Heights and distances should enable easy movement, reach and function. The fridge, sink and cooktop/oven are usually arranged in a 'triangle', with the sink located between the other items.
• Standard sizes and installation requirements of kitchen appliances such as fridges, dishwashers and rangehoods can limit height and size variations to benchtops and cupboards.
Q: My partner loves feature walls but I think they look awful and ordinary. Is there something that serves the same purpose but is more inspiring than an aubergine-painted wall?
A: Personally, I am not a fan of the painted 'feature wall' either. One of my pet peeves is the uneven painted edge of a corner that joins two different colours. Yuk!
If the intent of the feature wall is to introduce a focus or personality into a home, how about one of the following options:
• Full-height integrated shelving that will allow you to display books or items you have gathered over time. It can reflect your tastes, travels and history.
• Hang an en masse collection of photos along the wall. You can introduce colour and pattern through the frame size, shape and colour.
• A blank wall is an opportunity to start investing in art — if you want it to bring elements of a room together, you could find a piece that picks up on the colours or shapes in the room.
Q: I am renovating my home and don't know what colour scheme to use. How do I work out what's best?
A: There are so many colour options that it can become a daunting task to work out what suits you and your home. It may surprise you that the winner of the 2007 Dulux Colour Awards for a residential interior* was a project that only used different shades of white for the colour scheme.
What that spells out is that you don't need to think about a successful colour scheme in terms of bright colour. The important considerations are mood and an understanding of the space and light.
Colour is affected by light and the other materials and finishes surrounding it. Make sure you sample the paint on the wall in the room that it is intended for. Don't rely on the colour swatch — purchase a sample pot and paint a large patch on the wall.
It is generally accepted that cool colours (those with more blue) recede more than warm hues (those with more red). They are also considered to create a more relaxing and less stimulating environment than one painted in warm colours.
In a room that has low light, you may want to consider white walls. It will help to reflect light in the room. Just remember that not all whites are the same — some are cooler and some are warmer.
Here are a few tips when choosing your colour scheme:
* Consider the room shape and height: in a small room you may want to use lighter tones to make it feel larger.
* Consider the other elements in the room. If you have a lot of colours and patterns in your furniture you may want to go for a neutral (white or black), or use the dominant background colour of the printed fabrics. Remember to take fabric swatches with you when looking for colours.
* If you like a colour but think it will be overpowering when all walls of the room are painted, consider using it in half or quarter strength.
* If you are planning to use a variety of colours in your home, remember that you will generally see one room from another, so try to limit the palette to shades of the same family.
* Don't be in a hurry — take time to research and plan otherwise you could be left with something you don't feel comfortable in.
(* Marsh Cashman Koolloos, Bond House).