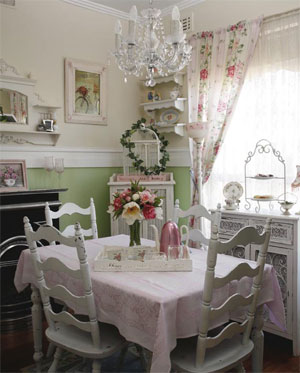 Five years ago, inspired to create something different with her decorating style, Vicki Dreier set to work on her daughter's room with all the beautiful and feminine touches. Soft pastel colours including pinks, greens, mauves and white were incorporated to give the room the look and feel of a princess' bedroom.
Once Vicki had the bug, the theme continued as she moved from room to room revamping her home using this romantic decorating trend. After Elly-May's bedroom came the dining room, the family room and then the formal lounge room. Using the light-coloured furniture of this style helped to brighten the home, which being an older house could have been quite dark otherwise. But perhaps Vicki's greatest achievement is her kitchen, which she has done in a French Country style centring on her Falcon classic vintage-style cooker, with the help of an enthusiastic kitchen renovation company.
"I designed the whole thing from start to finish, including the drawings, down to every detail," says Vicki proudly. "I was lucky enough that the kitchen people that I chose had not done a kitchen in this style or finish before, which is partly why I chose them. They let me work with them closely to obtain just the right finish and detail from beginning to end. Fortunately they were local so I was down there most days keeping an eye on things.
"We knocked out a large doorway from our bathroom and by converting that into a butler's pantry, it gave me more space in a quite small kitchen. I also have most of my appliances in there such as the fridge, microwave, dishwasher and a small sink. We then moved our bathroom into our laundry and built a cupboard around the laundry, so now we have a French laundry in our bathroom."
Vicki and her husband Ashley bought their house in the Melbourne suburb of Thomastown in 2001 and it is around 60 years old. Originally a two-bedroom home when she purchased the property it had just had an extension added and now has four bedrooms as well as a second living area and ensuite. Its open plan makes it more than large enough for her family of four and includes a spacious courtyard, where the family does most of their entertaining.
"I love entertaining, cooking for dinner parties, outdoor entertaining in the warmer months with friends and family, gardening, real estate and camping with friends," says Vicki. "And getting my teeth into my next project," she adds, referring to how her love of decorating has helped her achieve success with her business of the last five years, From All Things Shabby to Chic. Vicki sells wonderful pieces including furniture, china, giftware, linens, flowers and lighting, among others, and is also able to provide interior designing and visual merchandising services.
"I attract mostly women who love all things feminine and pretty, however I would love to do something modern to show I can diversify from what people know me for. I would like to do some corporate work in the future too," she adds.
"I do other styles but I would have to say that I never get sick of looking at elegant or beautiful things, so my decorating will develop with each new style. I would say predominately it will be French country and French provincial. Classic styles never date or really go out of fashion and I like to incorporate the old with the new and the odd talking point to create interest."
Some of Vicki's decorating items include mannequins, birdcages, painted suitcases and old clocks, prints, biscuit tins and signs. She has made use of all these items and more throughout her home to give it a vintage look and an old-world feel. Striped paint in Elly-May's room and the dining room create more interest than plain painted walls and the mini orb sheeting, combined with the leadlight window and pedestal basin in the bathroom, evoke instant nostalgia.
"Never be afraid to mix styles if you like more than one and never be afraid to mix colour. If you are unsure, consult with a stylist or decorator who will first and foremost listen to you and your ideas and build from there, because at the end of the day you need to be happy in your space."
Vicki's own space is perfect for her because not only does her home look beautiful inside, it is also only five minutes walk from her local railway station and only about 16km from the Melbourne CBD. Being in an older area on the outskirts of the city means less noise and Vicki is blessed with quiet neighbours. "We also have an eight-car garage, which is great for storing my 'works in progress' as well as using for my showroom," she admits. "This also allows me to work from home."
It's clear that decorating is a passion for Vicki, one which she loves to share with others. We will be featuring some other homes that Vicki has influenced over coming issues so stay tuned.
"Never be afraid to mix styles if you like more than one and never be afraid to mix colour. If you are unsure, consult with a stylist or decorator who will first and foremost listen to you and your ideas and build from there, because at the end of the day you need to be happy in your space."