This perfectly symmetrical formal courtyard is a place of peace and tranquility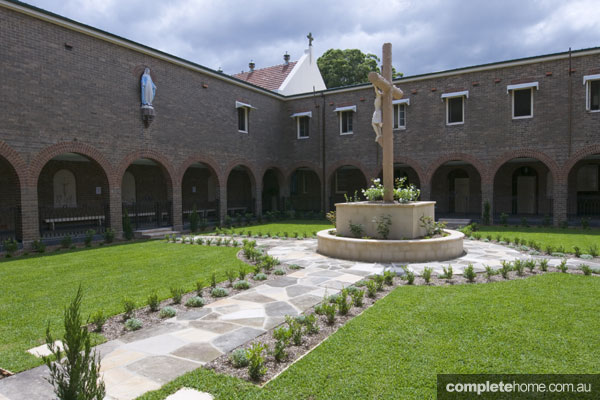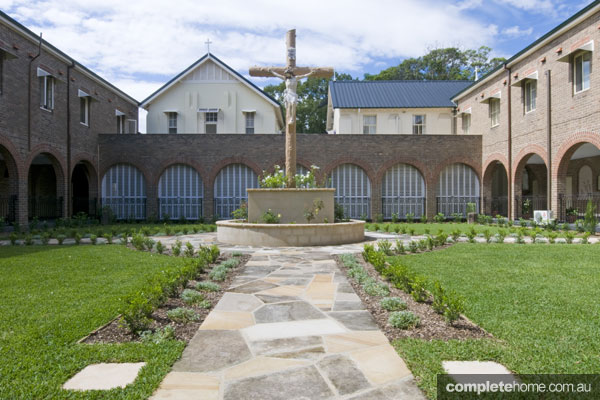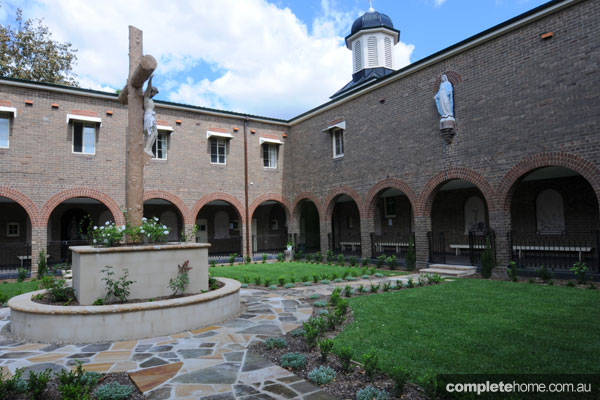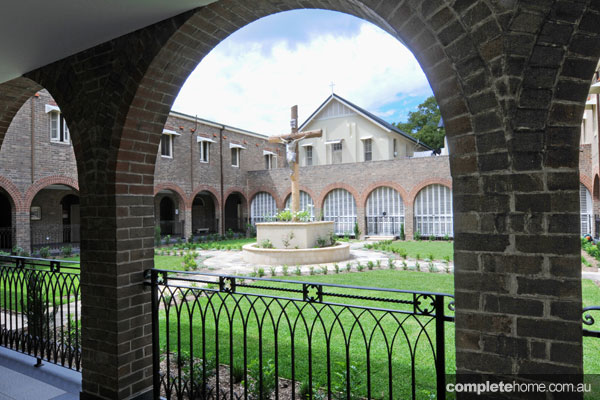 The central courtyard at Saint Maroun's College, near Sydney, is a place of great serenity. Surrounded by brick buildings boasting balanced corridors of identical arches, the courtyard maintains a peaceful atmosphere despite the hustle and bustle of the surrounding streets. When Josh Harrison, founder of Harrison's Landscaping, was asked to construct this landscape, he knew great care needed to be taken. First, the workmanship would have to be second to none. Second, excellent planning and project management would be required to carry out the work, including the movement of massive amounts of materials, without disrupting the school students and teachers.
The school's central quadrangle is a place staff use when in need of contemplation, seclusion or refuge. It also provides a tranquil view that can be appreciated when looking out from the building. At the heart of the space is a large crucifix, which rises up from the top level of a two-tiered planter bed. The circular planter box walls are built from blocks that have been rendered in a light-yellow oxide to match the look of the smooth-sawn sandstone capping.
From this central point of the courtyard, four sandstone paths emanate, giving the landscape a calming sense of symmetry and a look of formal European elegance. These paths were constructed using a combination of existing on-site sandstone and imported 50mm sawn sandstone flagging. Where each of these random-sawn sandstone paths terminate, there is a large sandstone step. The garden beds continue the theme of well-balanced shapes and each is planted in a matching scheme. Evergreen shrubs, such as murraya and buxus, have been used to create formal hedges. Liriope adds ground-level interest and roses have been planted around the dais of the crucifix, adding soft foliage texture and colours to this focal point. A fully automatic drip-irrigation system ensures each plant gets adequate moisture.
Harrison's Landscaping was given an extremely tight schedule — the whole project had to be completed in just 10 days. Josh's team worked around the clock to meet the school's deadline and the finished result is one of master craftsmanship coupled with an understanding of the unique surrounds. The outcome is a timeless garden in an exquisite setting.
Project Details
Landscape construction by Harrison's Landscaping Pty Ltd
D5/15 Narabang Way, Belrose NSW 2085
Phone (02) 9986 3112
Mobile 0404 887 223
Email josh@harrisonslandscaping.com.au
Website www.harrisonslandscaping.com.au
Originally from Outdoor Design & Living Magazine Volume 21