Combining the raw, rustic look of Italian-inspired concrete finishes with the architectural inspiration of Sri Lanka, this home is all about family — past, present and future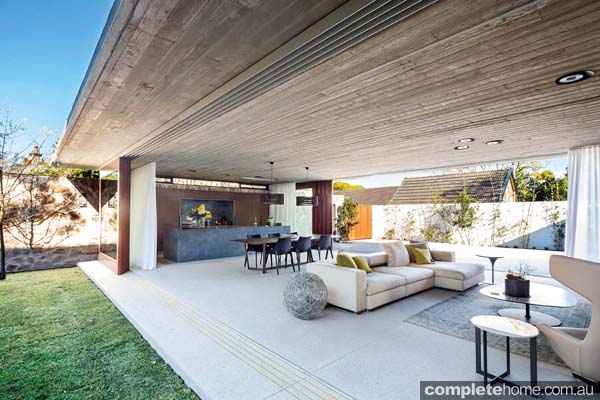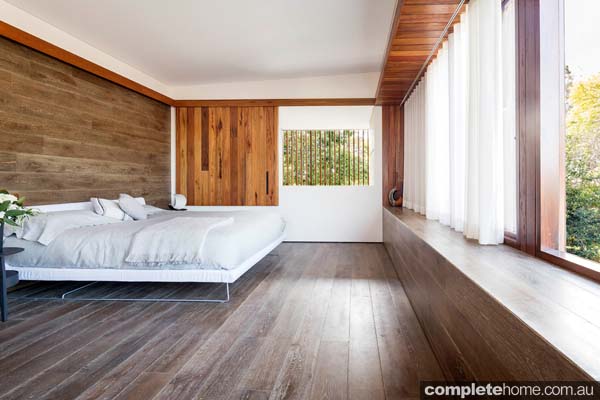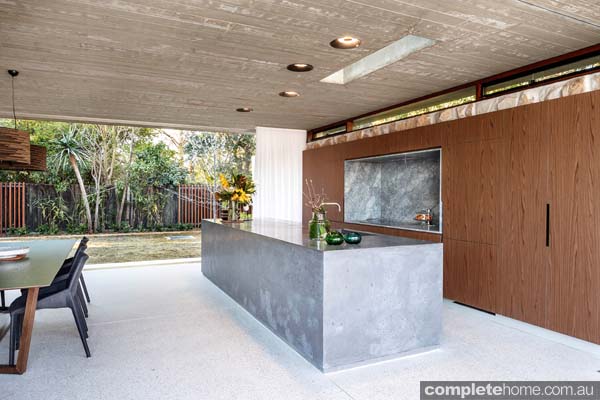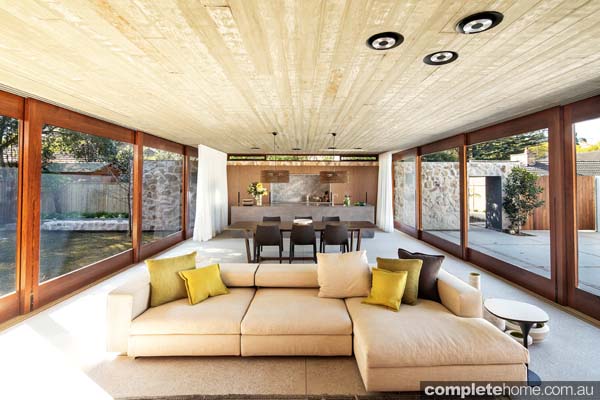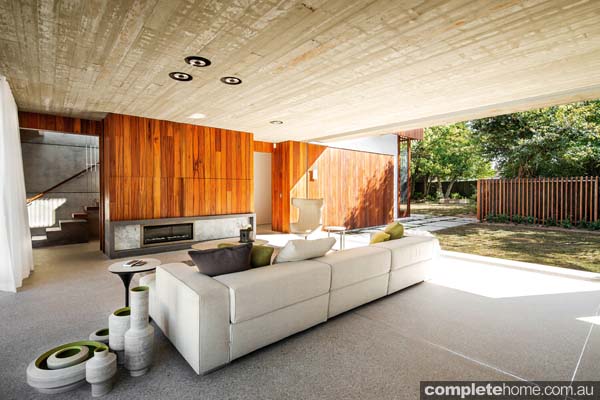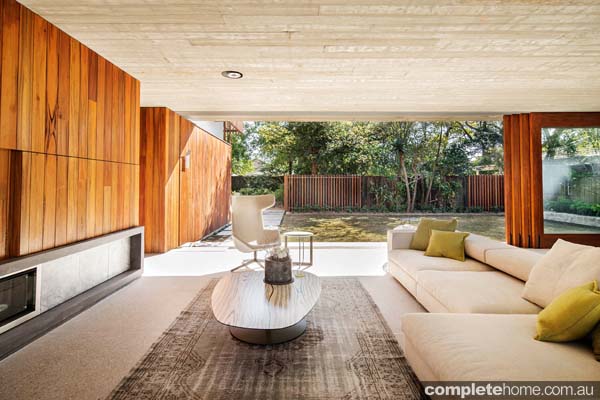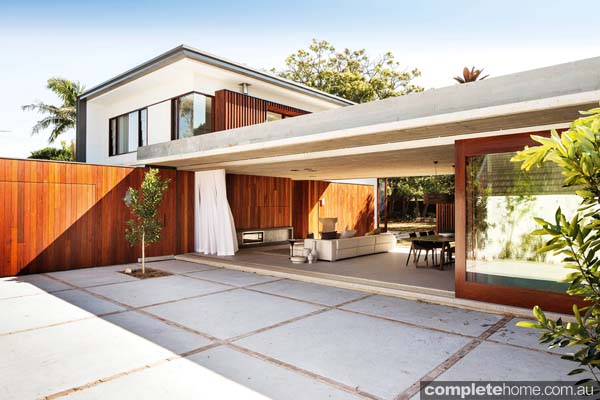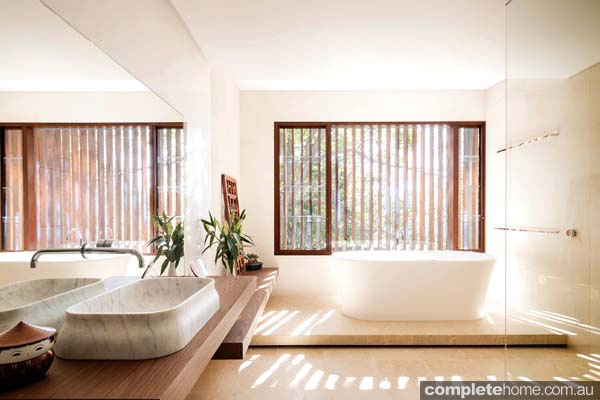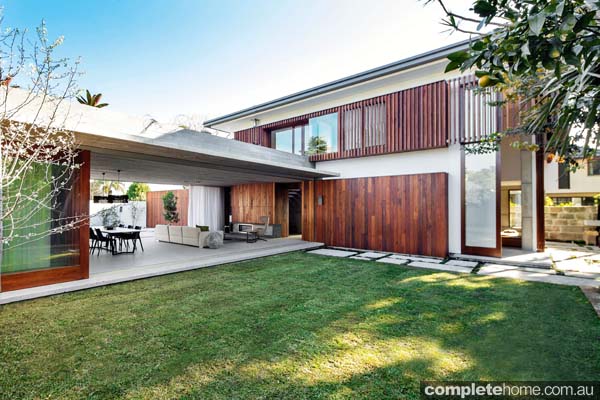 HOUSE Hunters Hill Textural House
LOCATION Hunters Hill, NSW
DATE COMPLETED August, 2013
EPISODE 8 SERIES 4
Daniela Turrin and Niran Peiris moved into this battleaxe block in Sydney's Hunters Hill 14 years ago with a dream to one day build a new home there. It's a prestigious suburb, filled with grand, historical houses, and now boasts a different kind of grand home, one that this family hopes will eventually also be looked upon as a piece of heritage.
After knocking down the original '70s-era timber house, the family built this modernist-contemporary beauty using both materials and a design that were inspired by Daniela's Italian family and Niran's Sri Lankan heritage — and reusing the abundance of timber from the original home.
The residence looks nothing like its neighbours and is hidden down a laneway, but Daniela and Niran hope this spectacular home will become a part of their family's own new Australian history.
"You can't plan for other people but it would be nice if we kept this house in the family," says Daniela. "In a sense we're bringing that history (Italian and Sri Lankan) here and making something new, the start of a new history for us. It's a nice solid house — hopefully it lasts for centuries."
Ever since they were married 26 years ago, Niran and Daniela have been interested in architecture and had always talked about one day building their own house. Collecting ideas and garnering inspiration over the years, the couple ended up with a clear vision of what they desired in a home. As well as renowned architects, such as Sri Lankan Geoffrey Bawa, whose buildings have masses of foliage spilling over their sides, local architect Arkhefield's work stood out. "It was important to find an architect who understood the aesthetic we were after," says Daniela.
There was always a big emphasis on texture and from the beginning, architect Graham Nottle of Arkhefield shared a similar vision. "The architecture needed to be organic and rich in texture, with natural materials and clean lines. There was a desire for a timeless design and Sri Lankan courtyards and Italian materiality were strong influences," he says.
Niran and Daniela have a teenage son, Calum, and are a close-knit family, so the home also needed to be designed to keep them together. "There are only three of us so it doesn't work segregating ourselves," says Daniela. While the old family home had four bedrooms, when they rebuilt they decided they didn't want a big home just for the sake of it. They decided to downsize to three bedrooms, following the footprint of the previous house. Upstairs there are two bedrooms and a bathroom, while downstairs is where most of the family's time is spent, either in the work room, around the solid timber table together, or in the main living pavilion. "The most important thing was to create a new home that would enable their close family life to continue and flourish," says Graham.
For Daniela, Niran and Calum, the connection with the outdoors was another important aspect of the home's design, and perhaps where the Sri Lankan influence is most obvious. "We wanted to bring the outdoors in and vice versa," explains Daniela. "We wanted a house that could easily transition from outdoors to in and feels like the garden is coming inside."
The spectacular, gravity-defying pavilion that creates an open living area with kitchen, dining and living room is the hero of the site. With large sliding doors either side, the whole space can be opened up like a big outdoor room and incredibly, the rooftop of this 14m x 10m concrete slab is a garden. It's planted with bromeliads and pig face and is designed to grow and spill over the rooftop's edge to create a hanging garden, clearly inspired by the lush buildings of Bawa. Most of this new build's design work has gone into this amazing concrete rooftop garden — a technical and engineering feat. At one point the project came to a three-week halt while the structural engineer and the builder worked out the complex steel cage structure atop the roof.
The garden roof is also one of many environmental considerations that went into the design, providing excellent insulation, storm water management — not to mention "quality of life for owners with a great outlook from the upper floors", adds Graham.
With its garden courtyards and lush outlook, the home feels tranquil — a perfect outcome for a busy family living amid the hustle and bustle of Sydney. And you would never know it. "We wanted to create the sense of a peaceful retreat within the city," says Graham. Whether in the work room, sitting on the repurposed timber bench seat by a large open window, in the main living pavilion with the sun beaming in and the doors wide open, or upstairs in the bathroom overlooking the garden, there is a sense of calm and of escape.
The house has hints of the '50s- and '60s-style architecture that Daniela is fond of. Utilising the timber and sandstone from the previous house was a beautiful idea that really pays homage to the site's history. Timber floor-to-ceiling bookshelves take up a wall in the work room, as well as feature walls throughout. The high ceilings and use of light-grey concrete ensure the spaces don't have a dark, heavy atmosphere.
"There is a strong focus on materials and different textures, and we wanted them as raw as possible," says Daniela. The concrete used throughout is class three, so it's not super-fine or perfect. For Daniela the use of concrete was all about that connection with her Italian heritage and her father in particular. She has memories from when she was a child of him laying and working with concrete.
Marrying these textures together, recycled timber planks from the original home have been imprinted into the concrete ceiling of the pavilion and the result is beautiful. The wood grain and bits of splintered timber, along with a brown woody hue, have made their mark on the concrete; it definitely achieves the raw, textural outcome.
The building process itself was hard work and Daniela stayed on site every day to oversee the project and "consider mostly the aesthetic side of it — I came up with the stains, picked the fittings and the carpets," she says. "I don't know how, but I spent every minute here."
Daniela is an artist and she found the attention to detail very important and integral to getting the results she was after. And it shows. "I don't know if it comes through — sometimes a lot of the detail is hidden," she says. "But if that level of detail wasn't there, people would definitely notice it was missing. I expected a lot … and everything turned out the way I wanted," she says of the finished product. Daniela puts this down to having a really clear vision and the fact that herself, architect Graham and builders Mark Flew and Gordon Leggatt were all obsessive. "We were very much into the detail from day one so nothing came as a surprise."
Despite being at the centre of a block and with nine neighbours, the building process was fortunately a smooth one — minus a few minor hiccups and design tweaks, and the difficulty of access due to a narrow laneway. That's not to say the cantilevered 14m slab roof was simple. "If it was easy, everyone would be doing it," was the common call from builder Gordon on site.
With a strong design concept at its core and a family that did their research and had a clear set of goals, this timeless contemporary masterpiece is one which will proudly be kept in the family for generations to come.
PROJECT TEAM
ARCHITECT & INTERIOR DESIGN Graham Nottle, Arkhefield
BUILDER Maincorp Gordon Leggett & Mark Flew, Constructions Pty Ltd
STRUCTURE
Structural engineer Rob O'Reilly, Partridge Structural Pty Ltd
Landscape architects Daniel Baffsky, 360 Degrees
Landscapers Josh Harrison, Harrison's Landscaping (02 9986 3112, harrisonslandscaping.com.au)
Hydraulic Engineer Paul McDonald & Sean Foord, Whipps Wood
Surveyor Brian Tucker Surveyors Pty Ltd (btucker.com.au)
Planning Consultant Burrell Threlfo Pagan (btpplan.com.au)
FINISHES
Stone cladding sandstone
Timber cladding and screen recycled spotted gun, clear oil finish Concrete Off-form, perimeter of planted roof formed using cladding boards from old house on site
Steel Dulux Ferreko No.3, Mid Grey
Roof Colorbond steel, Shale Grey
Windows & glazed doors New Guinea rosewood/blackbutt sills
Garage door Counterweighted Glide-Up door from Airport Doors (airportdoors.com.au)
Swing gate Gate Drive Systems (GDS) Australia (gds-australia.com)
Floor select aggregate, CCS Apollo pigment, polished finish
Ceiling board-form with recycled lining boards from old house
Walls Murobond Low Sheen, colour Chino
Ceiling Dulux Vivid White
Timber floor Distressed oak
Stairs Recycled spotted gum, stainless-steel rods
Written by Emma Wheaton
Photographed by Nick Wilson
Originally from Grand Designs Australia Magazine Volume 3 Issue 2