Whether elegant or casual is your chosen style, living rooms today tend to be more an eclectic mix of furniture rather than large suits of matching items.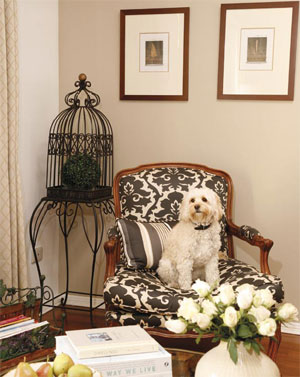 "Always design a thing by considering it in its next larger context — a chair in a room, a room in a house, a house in an environment…"
(Eliel Saarinen, 1873-1950, Finnish architect and furniture designer)
There are few things in life more important to us than the comfort of our family and friends, which is why our living spaces come under particular scrutiny by country decorators. In the living room, perhaps more than in any other room in the home, we strive to create a haven of comfort and charm.
In setting out to create the perfect atmosphere of comfort for our living spaces, we can do no better than to take to heart the words of famous architect Eliel Saarinen. If we begin by considering the chair in the context of the room, then the room in the context of the home, then all will be in harmony.
So in decorating your country living room you can't go wrong in devoting considerable time to selecting the perfect seating for your style of living space and indeed your style of living. Personally, I dream of the day I can buy an old Jarvi lounge suite, paint it in an antique white, distress it and furnish it with fresh cream upholstery. But in reality that day may never come because I have allowed my two small, sometimes white, fluffy dogs the honour of being allowed to lay on the couch. As they both have a talent for seeking out, and I'm sorry to say finding, any patch of dirt in our backyard, the couch of my dreams would barely survive our nightly cuddle on the couch. Instead, I have always opted for the purely practical leather lounge because I can easily wipe off muddy paw prints without having to continually chastise my furry companions.
When it comes to creating the perfect comfort zone in your home, you too are bound to have personal criteria that will hone down your chair selection options. You may have a family member with a bad back or posture problems in which case a more formal, classically structured single chair may be a better choice than a couch that allows for slouching. Small children or pets may mean leather is also your best solution. Elderly family members may prefer a single accent chair that allows them to easily ease themself out of their seat rather than a big couch that engulfs them when they sit.
As well as these practical considerations, there are issues of aesthetics to consider. What are the dimensions of your room and what look are you trying to achieve? You may have a very large room, in which case some grand seating such as oversized wingbacks or a Louis-style couch may suit your needs. You may be aiming to create an atmosphere of sophistication and grandeur and wish to combine an elegant accent chair or two with a classically styled couch to create zones within the room.
Whether elegant or casual is your chosen style, living rooms today tend to be more an eclectic mix of furniture rather than large suits of matching items. For country decorators, that gives us the opportunity to create havens of favourite finds. For instance, a couch can be covered in one or two much-loved floral fabrics and be seated near an accent chair in a stripe or check. You can throw a selection of cushions into the mix to add detail and interest to a plain couch and you can blend other colours and textures into the room through throws and curtains. Add to the jumble with both timber tones and painted furniture and you have the epitome of the modern country home — a room which looks as if it has come together over time.
To truly achieve a look of comfort and tranquillity you will need to move beyond the furniture to add layers of personal finds. With the addition of vases of fresh flowers, family photographs, rugs, artwork, lamps and cushions, a room of character will begin to emerge. You will begin to imprint your personal taste onto the room, giving it atmosphere and charm. Above all, take into consideration the needs and personal tastes of all your family members and try to meet their individual needs. You may not be as accommodating as Frasier Crane and give your father's beloved striped recliner a place of honour in the living room, but with compromises you should be able to create a comfortable haven for the entire family.
If you are looking for living room furniture to appeal to the ladies, look no further than the furniture and furnishings of the Louis XV style. Furniture of this era was designed with the comfort of women in mind. It is romantic and feminine in appearance, with flowing curves and elaborately detailed rococo carving. Its delicate design and mostly petite proportions make them not only particularly comfortable to the female form, but also the perfect accent items.