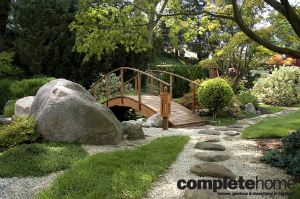 Create a resort-style ambience in your garden with a thatched pavilion
Is your backyard or swimming pool area looking tired? Are you sick of the hustle and bustle of office life and the daily battle with the traffic? Are you unsure how you're going to handle another hot summer?
If you've answered "yes" to any of these questions, then now is the time to spoil yourself and create a tranquil, relaxed atmosphere in your own backyard with a pavilion or hut-style retreat that will be the envy of all your friends.
Tropical Lifestyle Centre can help you to create a resort ambience in any outdoor living space with their African thatch roofing. Your thatch-topped retreat may be custom-built in either a square or rectangular design or you can opt for one of their easy-to-assemble do-it-yourself kits. These kits come in a wide range of sizes to suit all locations, including thatched umbrellas up to 3.8m in diameter as well as round and oval huts up to 5m x 7m.
The do-it-yourself kits are perfect for the home handyman as they come with simple step-by-step instructions, require no special tools and can be installed in a matter of hours.
For maximum flexibility, the African thatch tiles come in a range of different designs, with each tile measuring 800mm x 450mm.
In addition to its stunning good looks, a thatched pavilion also provides exceptional UV protection with the interior temperature up to nine degrees cooler than the outside temperature. What is more, the thatch is showerproof and is available with a fire-retardant treatment.
So, before you swelter through another hot summer, turn your backyard into your own personal getaway and make coming home from a hard day an excuse to spoil yourself in your own piece of paradise. Once you've done it, you'll wonder why you didn't do it years ago.
To find out more about African thatching, seek some expert advice or view a wide range of accessories, visit the importers at Tropical Lifestyle Centre in the Sydney suburb of Box Hill.
TROPICAL LIFESTYLE CENTRE
801 Windsor Road, Box Hill NSW 2765
Tel: (02) 9838 1323
Email: rusticthatch@bigpond.com
Website: www.rat.com.au