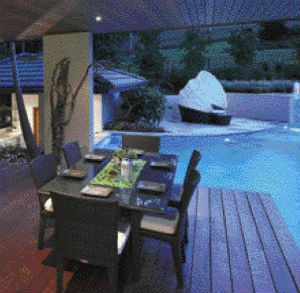 Once you visit this luxury landscape you may find yourself tempted never to leave
Completely surr ounded by bushland, this private hideaway gave Dean Herald of Rolling Stone Landscapes an opportunity to create a luxurious oasis tailored to reflect the owners' personal desires and lifestyle needs. As the owners are an outdoor family who love to connect with their surroundings, it was imperative this space become a complete living area that could be enjoyed all year round.
By taking the elements that traditionally make the interior of a home its social hub — cooking and dining facilities, a bar, lounge furniture — and replicating them outside means there is no need to head indoors.
This design has three main components: the swimming pool, the outdoor living room and kitchen pavilion, and the bar pavilion. Each area needed to have its own identity yet retain a sense of continuity with the other two.
The outdoor living areas also needed to complement the natural bush surroundings so it was essential every detail and form be precise. This can be seen in the way the curved lines of the pool seem to form a union with the background of sweeping ridges and how the pavilions' sharp lines and roof peaks draw your eye upwards towards the towering eucalyptus backdrop.
The materials used were carefully considered to create the desired resort ambience yet balance with the surrounding bushland. Cobb & Co pavers from Eco Outdoor were used throughout. The varied tones within the pavers create interest, the texture complements the broader natural environment and, where the pavers meet with the hardwood timber of the pavilion, the combination of natural materials looks very evocative.
Cedar was the timber of choice for the ceiling of the pavilions, a look warm and inviting. The open-sided design of the main pavilion allows the user to take in the surroundings and feel at one with nature yet still have all the creature comforts at hand, such as a kitchen and dining area as well as a lounging space in front of an open fire.
The sunken bar pavilion's main feature is a colour-backed glass water wall which references the swimming pool and the swim-up bar area. Lit from above, the reflections cast by the water spilling down the glass can only be described as mesmerising; its effect, calming.
From every angle of this garden, you feel as if you have entered a private resort. Its tranquil atmosphere, combined with the contemporary design, stunning outdoor rooms and lush plant life, make you want to unwind, relax and enjoy — which is exactly what resort living is all about.
Project details
Landscape designed and built by Rolling Stone Landscapes PO Box 3341 Dural NSW 2158 Phone (02) 9651 5002 Mobile 0404 866 799
Email dean@rollingstonelandscapes.com Website www.rollingstonelandscapes.com Photography by Danny Kildare