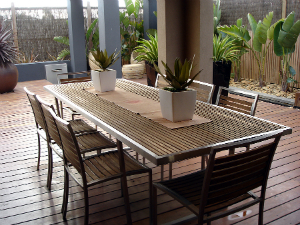 If you're looking for the latest in outdoor products and design, look to Queensland
Story: Vikki Mason
A strong trend overseas and throughout Australia has been the introduction of elaborate outdoor living areas. While outdoor living isn't exactly a new concept for Queenslanders, the growing number of locally based outdoor product specialists and showrooms has meant that Queensland gardens and poolsides have never been so luxuriously appointed.
There is a plethora of Queensland-based companies designing, manufacturing and selling innovative products and accessories with the tough Australian climate in mind. And there has been an influx of companies headquartered in other states, looking to open up Queensland stores and displays.
Eco Concepts is one such company. It recently opened a designer stone showroom in Brisbane where designers, clients and builders can meet to discuss how to best use the Eco Concepts range of stone walling, paving and cladding products.
Natural stone products are very much in vogue at the moment, both in Queensland and around the country. Says Eco Concepts' Director Ben Kerr, "We're committed to natural organic-style products because we believe they maintain the integrity of the landscape. And we're excited about the opportunity of working with developers and landscapers in Brisbane."
Another company is Gazebo Direct. Providing everything you need to create an authentic tropical-style garden, Gazebo Direct got off to a spectacular start in its quest to conquer the Queensland market by winning Best Display at the 2008 Queensland Home Garden Expo right before the launch of its new store in Doonan, just outside of Noosa.
The number of Queensland companies whose products have made their mark locally and interstate also seems to be on the increase, adding to an already impressive list of established names like Tropicover, a leading umbrella designer and manufacturer, and Living Water Designs, a company renowned for its contemporary water features. Then there is Oz Thatch, a family-run company based in Alberton (which is about halfway between Brisbane and the Gold Coast) with more than 14 years experience specialising in thatching products and thatched structures.
In the field of art, there is Colour Rush, Ideas Seven and Brannelly Outdoor. Brisbane-based Brannelly Outdoor (formerly Table Art) specialises in mosaic art and designer Connor Brannelly's handcrafted custom-made mosaic pieces (tables, water features, wall art and more) can be seen in gardens and homes Australia-wide.
A new Brisbane-based business worth keeping an eye on is Seedrange and its range of handcrafted solar lights and illuminated glazed glass ball garden stakes. Combining art with functionality, these beautifully crafted products will no doubt soon be appearing in gardens throughout Australia.
Of course we mustn't forget the high-quality plant and garden décor providers like Sophia's Garden, which recently opened its doors in Nerang, and The Springs Garden Centre located in Toowoomba, fondly referred to by many as "The Garden City". Nor the many innovative landscape companies such as Brizscapes, Nick Moore Design, Mark Perriman Landscapes, Branat Designs and the multi-award-winning Wayne Giebel Landscapes.
With so many outdoor product and design specialists, you have everything you need to turn your gardens into your own little slice of paradise.