Quality pavers set this elegant poolside entertaining pavilion apart from the rest.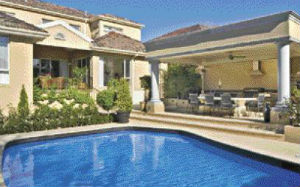 Photography Patrick Redmond 
As previous Daniel Robertson clients, the owners of this renovated home had no doubt in their minds. For performance, quality and reputation, it had to be Robertson pavers all the way.
To give the owners the enhanced lifestyle they craved, getting the relationship between the interior and exterior spaces was critical. The objective was to create an outdoor area that had a resort-like ambience they could enjoy when looking out through the windows of the house. In planning the external areas, the owners set about making a series of outdoor "rooms": a terrace for morning coffee, various sitting spots and a stylish roofed entertaining area complete with heating, fan, barbecue, pizza oven, fridge and dishwasher. Now entertaining is a lot easier as the owners don't have to run in and out of the house for plates, cutlery and drinks; nor to cook for guests.
To achieve a continuous journey from the front entry to the rear of the house, the owners linked the hard landscaping products. Pockets of slate taken from the existing slate wall at the front of the house were incorporated into the pizza oven surround and the waterfall, which is the focal point of the rear garden.
The driveway aggregate picks up on the tones within the slate and Daniel Robertson's Classic Parchment terracotta tiles link the driveway to the colour of the house and lead to the pool surround. With a vision to bring the outside in, the backdrop was set: dark green foliage, azure-blue water and fresh, natural, sand-coloured tiles.
Daniel Robertson's Parchment tiles fitted the theme perfectly. They also suited use around a saltwater pool and the matching bullnose-edge tiles were ideal for creating the long, graceful levels that step up from the pool to the outdoor eating area. The end result is light, fresh, inviting and highly functional. Daniel Robertson's larger 325mm square tiles have half and quarter sizes to match, which allows flexibility of patterning. These hard-fired terracotta tiles are popular for pool surrounds as they have slip-resistant properties, are saltwater-safe and fade-resistant. The impressive colour range includes Parchment, Sandstone, Sienna, Dune, Terracotta and Charcoal.
For more information visit www.danielrobertson.com.au