Getting away from the hustle and bustle of everyday life is always a pleasant experience, even more so if you can escape to your own backyard for pure relaxation.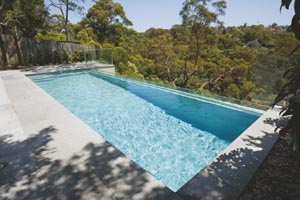 Designed and built by Sunrise Pools, this swimming pool presents its owners with their very own oasis to escape to, complete with a serene valley vista to look out on below.
Built into the side of the sloping property overlooking the valley, the pool offers a traditional shape that is easy on the eye.
A glass edge maximises the view of the valley, adding to the tranquil feel of the backyard.
Sunrise Pools aims to design and construct — utilising the highest-quality materials and the latest technology — a complete concept that is unique, structurally sound and caters to clients' needs.
The company invests in staff through continual training and development and ensures effective communication while offering a level of customer service that is second to none, from quotation to project completion.
Sunrise Pools builds 50 to 100 pools each year in the Sydney metropolitan area. It's a member of the MBA (Master Builders Association), SPASA, HIA (Housing Industry Association) and APSP.
Since it was established 34 years ago by Peter Moore, Sunrise Pools has won more than 170 awards including a massive 11 awards at the recent 2008 SPASA NSW awards, which included an impressive seven gold awards.