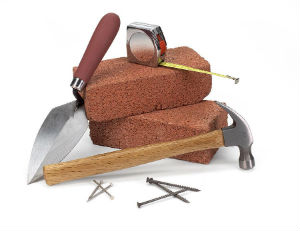 In this impressive renovation, the clever use of bricks on a feature interior wall of the bungalow held the key to seamlessly integrating the charms of the old and the practicalities of the new
When you're undertaking a major home renovation, there are always challenging design and practical considerations that need to be answered. This particular project was by any standard a renovation that held its own unique challenges. The architect responsible for the project, David Saunders, believes, where possible, in renovating and practising adaptive reuse by reinventing existing buildings. David Saunders sees this as the sustainable architect's response and one of the greatest acts of recycling. The other major consideration for this particular project was to maintain the integrity of the early 20th century bungalow, while creating a contemporary residence that answered the needs of modern living for a young family. At the same time, these two juxtapositions needed to harmoniously blend in such a way that they would work both aesthetically and practically.
The detailed client's brief for the project included demolishing the existing kitchen, laundry and meals area. In the kitchen, living and dining area, the brief was to re-use the existing appliances and to incorporate all these living spaces into a new large open living area. Another design consideration was to maximise the natural garden aspect, the natural light and ventilation. The master bedroom called for a new ensuite and walk-in robe, with the existing front bedroom to remain original and a third and fourth bedroom to be added, as well as a new guest bathroom and family bathroom.
To pull all these elements of design and layout together, the red brick exterior held the clue. Architect David Saunders chose a brick to match the existing exterior brickwork as closely as possible and then featured that exposed brick on an internal wall. This design solution achieved the seamless transition between the charms of an original bungalow and the contemporary new addition required. The use of bricks, both internally and externally, working with the concrete slab floor also provided a massive amount of internal thermal mass, achieving a welcome and effective temperature control within the dwelling throughout the year.
The aesthetics of the restoration brief was to include restoring the period details of the original bungalow while at the same time injecting a contemporary style. As well as the connection between the exterior and the new internal layout of the bungalow, David Saunders intentionally chose the dramatic red bricks, believing them to be more aesthetically appealing than concrete masonry blocks. For practicality, the choice of bricks represented a more affordable alternative to stone and a durable alternative. The exact type of brick used on the interior wall was Boral Bendigo Sandhurst Red. These pressed red bricks most closely matched the existing exterior brickwork and added a sense of monumentality and integration to the project.
PROJECT PARTICULARS
The project was designed by architect David Saunders, S2 Design
ADDRESS: 189 St Kilda Road, St Kilda Vic 3182
PHONE/FAX: 03 9534 9181
EMAIL: enquiry@s2design.com.au  
WEB: www.s2design.com.au
WALLS:
Boral Bendigo Sandhurst Red — pressed red bricks
FLOORING:
100mm reinforced polished concrete
AIR-CONDITIONING:
Brivis gas central heating unit, and Brivis ICE series air-conditioning unit
KITCHEN:
Benchtop: CaesarStone 6100 Night Sky
Cabinetry: Stained finish 18mm hoop pine plantation plywood
Rangehood: Qasair mini-trim MT60 IT
SANITARY FIXTURES and BATHROOM FITTINGS:
Toilet suite: Englefield Mirage close-coupled s-trap
Vanity basins: Vitra Bergama 6130 white ceramic (bathroom) and Caroma Harmony white ceramic (ensuite)
Shower mixer tap: Vitra Cato 41616 chrome
Basin mixer taps: Vitra Cato 41614 chrome
LIGHTING:
Downlights and outdoor lighting: Beacon Lighting
Pendant (bedroom): Australian Lighting 'Metro'
Pendants (kitchen): Australian Lighting
Clipsal Slimline switches and power points: MS flat stainless-steel finish
WINDOWS:
Black anodised aluminium frames with low-E glass: Creative Windows
EXTERNAL DOORS:
William Russel solid core ply faced, stained finish doors and reused cedar Edwardian door