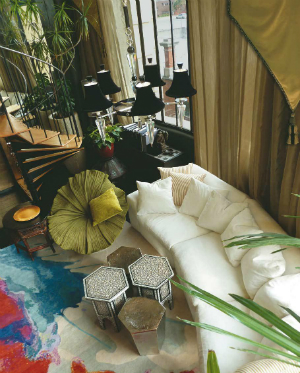 Toni's parents championed her creativity. Her father was a Madman, a Madison Avenue Advertising writer, and her mother was a writer and artist whose hand-crafted drapes, slipcovers and wallcoverings created elegant backdrops to inspired dinner parties. These memories of New York Art Deco clearly inform her aesthetic.
As an interior designer and an architect, her first jobs with a builder, and then with architects Skidmore Owings and Merrill, gave her the technical background to seamlessly merge her interiors with the architectural framework. Combining her writing ability with her 3D training, she furthered her design skills as a museum exhibit designer, which led to her being head-hunted by international branding company, Landor, of San Francisco. They encouraged her to design fashion, graphics and architecture in branded identities interiors.
Toni spent 10 years travelling the globe to implement a multitude of branded interiors throughout Asia Pacific and Africa. Reminiscing, she said that while on a month-long trip through India she was queuing in an immense ticketing hall in Mumbai, and suddenly realised the interior space was one of her designs she'd completed a couple of years prior. Toni saw her niche in creating an identity approach to residential and hospitality interiors, with Franchi Design achieving its first Melbourne commission in 2006. Toni's company has evolved into a dedicated design service in premium residential, retail and hospitality design.
At Franchi Design a project starts with a "fashion inspiration image", followed by the "master concept phase" which defines the features of the project. This early commitment to a defined design is a more streamlined approach as opposed to traditional design development. Knowing the design destination means the client's feedback is more interactive. For her own penthouse, Toni worked closely with trusted tradesmen and suppliers who confidently produced her vision. "The Nepalese RugStar Splash 2 designed by Jurgen Dahlmanns from Behruz Studio, is always a talking point." Toni continues, "The Deco Asian concept was refined through confident fabrication with my trusted team from InVogue Blinds' Velvet Banners, Capocchi antique French deco chairs, and Custom Lighting's crystal pendant." Toni notes that trends in her work rarely come from her own field of endeavour. Fashion, jewellery, green technology, 1930s films, science fiction, and 3D imaging inspire her adventurous designs as she cherry-picks design eras in the same way a chef might add a new ingredient to a dinner entrée.
The James Bond interiors, Hundertwasser's colours, Warhol graphics, and Lucite shapes of the '60s, along with the globe-trotting artefacts of the '70s and exuberant embellishments of the '80s, are all eras she draws inspiration from. Toni expects the future of interiors to emphasise layered geometries, higher contrasts, transparencies and more use of metallic finishes — designs that are now possible with advanced computer modelling. Franchi Design's formula is "unique client + unique space = a dynamic design response". "Accommodating individual lives produces welcoming places," Toni adds. The direction of Franchi Design is genuine. "My vision is to work closely in one-on-one relationships with my clients, who very often become friends." Toni's warm personality is reminiscent of her beautiful work and her worldly perspectives reflect her daring designs: "Show care, be curious and involve the client and team in order to realise beautiful places with the best finishes possible."
Toni's Accessorising Guide
1 Personalise with memorabilia and collectibles.
2 Don't go timidly — get the larger size!
3 Display multiples of the same object.
4 Test colours on a black background.
5 E xpress your values through books, cushions, lighting, rugs, art, plants and photos.
6 First imagine how your new room feels and then hit the shops!
7 The master bedroom is a place for dreamtime; encourage this with deep colours and soft textures.nbsp;