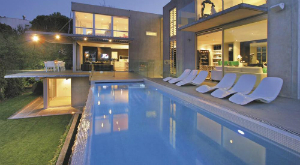 The owners of this home, Paula and Simon Herbert, fell in love with David Ponting's hard-edged modernist architecture where massive concrete planes meet walls of slatted horizontal timber — both inside and out. They were also seduced by the peacefulness of this extraordinary city location. The house is well away from the road on a north-facing slope, with amazing views over treetops to Auckland's harbour and Rangitoto Island. Paula Herbert is an interior designer who established the homestaging business, Interior Concepts, before selling it off to her business partner.
With her sharp eye for spatial relationships and detail, she could see the one-year-old house had loads of potential for improvement. "It had a good, solid, architectural feel and we believed we could glamorise it to make it more exciting," says Paula. They fi rst sought to improve the fl ow to outdoor spaces. A bridge was constructed from the terrace off the family room to link with a new swimming pool and terrace to the lounge. Up came the polished concrete fl oors and large grey ceramic tiles were laid across the area. A terrace now wraps around and extends both internal living areas, with a discreet glass balustrade to keep it safe without compromising the views.
An aluminium Louvretec canopy offers shelter so the Herberts can sit outside, rain or shine. Water spills over from the pool down a rugged basalt tile wall, to become a feature of the garden below. Paula explains that she saw the idea when holidaying at the Yasawa Resort in Fiji. Now it always reminds the couple of their holiday. At one end of the pool, instead of a glass balustrade a large mirror picks up movement and refl ects it back, creating an unexpected, dynamic artwork. It's a device Paula has used again and again around the home. "I love mirrors," she says, "they add glamour, refl ecting movement and light." Which is why they feature everywhere, larger than life on many walls, as cabinet surfaces in bathrooms and even on the outside of the home. As you open the entry gate and walk along a space lined in white Carrara marble, three large mirrors catch the light to expand this small outdoor area. In the lounge, three mirrors march along a black wall facing the pool.
Other high-gloss surfaces create the same dazzling eff ect. With its elegantly turned and detailed legs, the high-gloss black lacquer dining table is a French antique that was originally white. Paula had it resurfaced and matched it with Philippe Stark chairs upholstered in a geometric black and white pattern from Mokum. Designed by Paula, grand black lacquer cabinets on both sides of the entry add height and drama, providing ample space for glassware and crockery. Facing the fi replace, twin emerald-green velvet-covered occasional chairs throw a splash of colour into the room. American oak fl oors in both the lounge and family areas were originally quite yellow, says Paula.
Re-stained a dark mahogany, the eff ect is stunning against the white walls and cabinetry.With four children, this is a busy household, but there are plenty of spaces for escape, including the little television room beside the family area. Lined in a Ralph Lauren black-and-white-striped wallpaper with sisal fl oors, it's practical yet luxurious. Upstairs, the master bedroom sanctuary with its sublime views is accessed over a bridge that separates it from the children's rooms. Luscious velvet textures off er a taste of decadence. A huge black-velvet grid bed-end mimics a rug of black cowhide squares on the fl oor. From ECC, the velvet, baroque framed mirror lends a fairytale edge above the dressing table. Every room is dressed to thrill in this beautiful home. Bathrooms lined in Carrara marble revel in the light that pours through fl oor-to-ceiling windows. Children are indulged with sumptuous fabrics on bed-ends that reach high up the walls.But it's not just the decorative elements which set the home apart. Ponting included a host of great technology features that immerse the Herberts in comfort. Pre-programmed lighting systems set the mood for any occasion. Integrated electronic sound systems run through the living areas and master bedroom. And a full-scale projector screen drops down from the ceiling, turning the lounge into a home theatre. Not just beautiful, but clever, too!