A Riverbuilt Transportable Home is built altogether differently from typical transportable manufacturing methods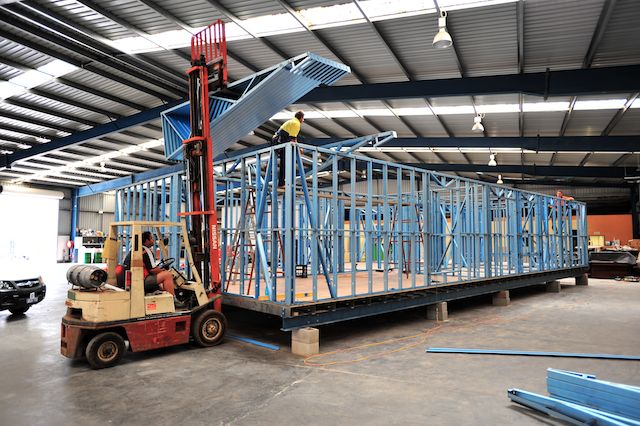 Fully welded steel Chassis base with UB chassis rails and RHS joists. To our knowledge there is no other manufacturer in Australia who uses this 'perfect' system, as it is generally considered 'too expensive' We use this premium construction method as we believe that the flooring system is the most important part of the home and that if it is super strong and rigid, we get very little movement in travel. Our aim is to deliver your home in perfect condition. Also, as the floor is so heavy and rigid and all the joins are welded,  it is the quietest flooring system available. This is particularly so as all our under floors are insulated…standard!
Fully welded galvanized steel frames and trusses. Again, we use this more expensive, but far superior system as it produces a home of far greater quality…with little or no movement or flex. Combined with the steel flooring system, a Riverbuilt home is termite proof and strong…literally a home built for life!
Under cover manufacturing facility. We have a expansive under cover facility where your home is manufactured. We are not governed by the weather, and the quality of the workmanship is high and consistent. We work to strict quality assurance standards that are overseen by qualified Building Supervisors.
Higher Quality Inclusions.
We fit our homes out the best way…not the cheapest. We build them how we would like to live in them ourselves!
Insulation everywhere! Under floor, in the walls, in the ceiling and blanket and foil under the roof sheeting. 4 levels!
Kitchens. Stone bench tops. Polytec Gloss or Matt cupboards in plain or wood grain colors. Soft closing mechanisms on all doors and draws. 900mm stainless steel canopy range hood. Stainless steel dishwasher. Stainless steel Microwave. Designer 600mm splash back tiles. Overhead cupboards. Pantry in every kitchen. Stainless steel kickboards. Multi-function stainless steel Oven. Ceran Black Glass Cook top. Features like these are normally high cost upgrades on a Custom Built home….they are NEVER normally standard inclusion on a Transportable home!
Bathrooms. Australian made high quality wall hung designer vanities with Polytec finish, soft close doors and draws and flick mixer, full ceramic toilet pan and cistern with soft close seat, polished edge mirror, feature tiles in glass or marble, high quality metal taps and accessories.
Painted or stained wood blinds, Carpet, Vinyl to Kitchen and meals.
Australia's most advanced delivery system.
Your home is delivered using possibly the most sophisticated and advanced equipment available in Australia. Normally Hydraulic trailers are used, which ride lower to the ground, and can be raised as needed to lift the house for access through gates etc. This professional system allows us to deliver to areas most people couldn't venture, and for your home to be delivered quickly, efficiently and damage free.
Best Value Transportable Home – guaranteed!
Can we produce a home of this quality and standard at the cheapest price in the market place? Can you buy a premium German car for the price of an Asian car?  … Of course not!  Our homes are not the cheapest…that was never our aim, but what we can promise you is that you will be surprised how little premium you have to pay to have the best quality transportable home available in Australia.
For Further Information
Please view our full range and comprehensive inclusions list on www.riverbuilt.com.au or phone the Bell River Group on 1800 200888