A windswept site and myriad granite boulders inspired the design for this weekender in Victoria's Macdeon ranges.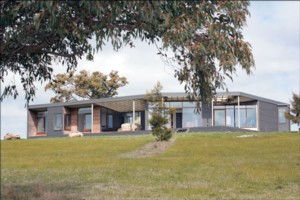 Architect Ric Zen says the location and footprint of the weekender he designed on a hillside location in rolling agricultural country near Lancefi eld in central Victoria practically chose itself. Walking around the site on a typically blustery and chilly day, Ric and his client found themselves sheltering behind two massive boulders. "It was practically the only spot on the entire property where we could sit down to have a conversation and hear what each other was saying," Ric recalls. "The wind blows up the valley and really hits the whole block, so it seemed obvious to situate the house in a spot where it could be protected by the rocks. "Having established the location, it was then a matter of wrapping the house around the contours of the hill."
As the principal of the Melbourne firm Zen Architects, Ric has built his reputation on designing for maximum passive solar benefit or "harnessing what is free for natural comfort then supplementing it with technology". To this end, Ric faced the three-bedroom house to the north to take advantage of panoramic views across the hills and to gain maximum winter sunshine. Double glazing on all the windows retains warmth while heavy insulation using a combination of batts and air-cell insulation on the walls and roof add further comfort to a location that is as extreme in summer as it is in winter. Overhangs that shade summer sun, bi-folding doors and windows take care of cross-ventilation to alleviate the summer excess. The house "turns its back" on the harsh western sun with a solid wall in the bedroom at one end of the house. The two bedrooms and bathroom at the other end of the house open to the view with floor-toceiling glass.
Because of the sloping site and many smaller rocks embedded in the ground, the house had to be raised, which precluded the heat-retaining thermal mass of a concrete slab. Zen Architects, however, responded by incorporating several large natural rocks in an atrium between the main bedroom and the kitchen-dining area. "The living areas embrace these rocks and make them the focus of many view lines throughout the house," Ric explains. "They also provide strong connection to the landscape and provide a natural source of thermal mass within the house. Concrete pavers on the floor of the kitchen-dining area and adjacent living room provide further opportunities for winter sun absorption." Because the house is only intermittently occupied, and in anticipation of its strong passive solar performance, the architects and owner agreed not to install central heating. Instead, they opted for unobtrusive electric panel heaters and a slow-combustion stove in the living area. "We kept the heating simple and zoned so that only the spaces that are occupied are heated," Ric says. "In fact, the house should only require booster heating during extremely cold conditions such as winter evenings."
Indeed, when Green Living visited on a windy, latewinter day, the internal spaces were completely comfortable despite single-figure outside temperatures. The property, which the owner is using to grow harvestable mixed gum and acacia species, is not connected to mains water, so farm needs are met by a large dam and household needs by rainwater harvested from the large roof area and stored in tanks. A solar heat pump water heater takes care of hot-water needs and light fittings, tapware and appliances are all energy efficient. A worm farm sewage treatment system treats black and grey water, which feeds to transpiration trenches that water the tree plantation. The outer skin of the house is low-maintenance, longlife Colorbond and contrasting penetrations in the façade, which are more protected from the extreme weather, are clad in a rich red timber to reveal a warm interior. "We wanted to create the sense that it's not just a tin shed," Ric explains. "Using timbers shows that there's something else going on."