Farm Houses of Australia designs offer authentic period country character with great scope for individuality.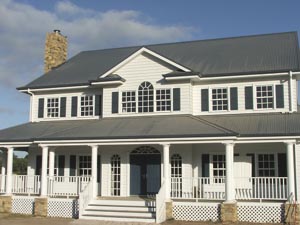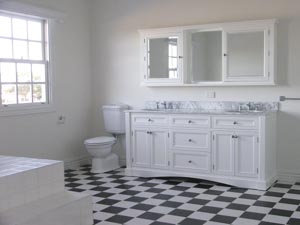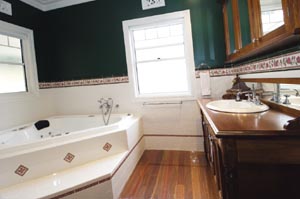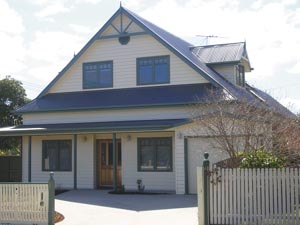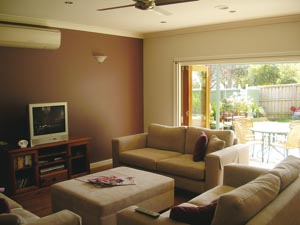 The Terang
Designed for a growing family, this generously proportioned country-style home at Terang in Victoria's west exemplifies the colonial charm typical of Farm Houses of Australia designs.
Featuring high 2.7m ceilings, large double dormer windows and extensive timber flooring, this 257m2, five-bedroom, attic-style home retains a traditional appearance in keeping with its rural setting. Front, side and rear gables, gable vents, fenestrations and finials enhance the design's period character and a smart-rock sub-floor blends beautifully with the traditional stone fences in the area.
The Terang provides plenty of room to move with three separate living areas and expansive decking for outdoor entertaining. Four large bedrooms are situated upstairs, including the master with walk-in robe and ensuite, while a fifth bedroom located downstairs is ideally suited as a retreat for guests. A spacious, functional study also located downstairs provides the perfect space for a home office.
The home features a huge country-style kitchen with generous walk-in pantry and a combination laundry/mud-room designed for rural living. The family room sits within the bay window, with colonial glazed windows on all sides and a sliding door providing access to the decks.
A low-maintenance dwelling was a high priority for this design. This has been achieved through the use of vinyl weatherboards, UPVC windows and smart-rock sub-floor, making the home virtually maintenance-free.
Ferny Hill
Featured here is a modified version of the Ferny Hill, designed for and built by Doug and Kellie Law of Construction By Law on their six-hectare property at Merricks North. The Ferny Hill is a warm and inviting home displaying traditional charm on the outside, and both contemporary and traditional features within. This home features front and rear twin gables and a traditional jarrah verandah at the front. Exterior gable trim, verandah brackets, fenestrations and finials add to the rustic charm that typifies these designs.
Constructed of low-maintenance Weathertex weatherboards but available in your choice of finish, the Ferny Hill is an extremely practical design for a growing family and is excellent for entertaining. The home comprises four separate living areas, four generously sized bedrooms with walk-in robes and ensuite to master, a study and a large country-style kitchen with walk-in pantry.
Like all Farm Houses of Australia designs, the Ferny Hill retains a traditional farmhouse appearance with high ceilings and extensive timber flooring, and features the luxury of high-quality, contemporary fittings. However, as each design is customised to the requirements of the owner, no two homes are ever the same. Although the Ferny Hill is shown here as single-storey design, the plan is available on request as a seven-bedroom attic style.
The Ferny Hill is the Farmhouses of Australia Pty Ltd display home, and inspection is invited (by appointment only).
The Balnarring
The Balnarring includes all the classic period features and country charm for which Farm Houses of Australia has become renowned. This grand residence is the culmination of a four-year dream for the owners, who are thrilled the house has turned out just as they had visualised. Constructed of timber weatherboards with rock cleverly contrasted around the pillars and chimney, the home boasts a massive 440m2 of living plus verandahs and upper-level balcony.
Personal touches abound throughout this home, which has been designed entirely to the owners' specifications. Features include timber flooring throughout, extensive windows and expansive decking to take advantage of breathtaking property views. Clever use of internal glass doors creates a natural flow from room to room.
Comprising spacious formal dining, living and family rooms, dream kitchen with separate huge pantry, study, master bedroom with built-in robes, ensuite and spa, guest bedroom with ensuite and a three-car garage, the Balnarring can easily accommodate family
and guests.
The Bentleigh
Nestled in suburban Bentleigh, this two-storey Attic-style home perfectly complements the surrounding period dwellings. With 256m2 of living plus decks, The Bentleigh has three separate living areas and three generous bedrooms (master with full ensuite and walk-in robe) and has been designed with the family in mind. The master bedroom and study are located downstairs while the children's area, including a study nook, is upstairs.
The open-plan arrangement of large kitchen (with corner pantry), meals nook and living room looks out through timber bi-fold windows onto the outdoor entertaining area with access through timber bi-fold doors. The house is constructed using cement sheet weatherboards and timber windows and the timber floor is laid on the concrete slab.
Company profile
Farm Houses of Australia recreates outstanding homes which boast authentic period country character and charm, at the same time offering great scope for individuality. Designs are based on classic examples of old Australian farm houses with traditional exteriors and interiors as classic or modern as you choose.
The company is constantly updating its range and all homes can be completely customised to your requirements. No two homes are ever the same. The aspect, outlook and special features of each property are taken into account during the design process and houses are designed to comply with 5-star energy rating and also bushfire area requirements. Designs are also available for suburban and outer-suburban properties.
Farm Houses of Australia also provides a specialised computer design service allowing all aspects of the floorplan to be presented in 3-D, so you can see a photo-like image of how each room in the house will look when completed. You can also place and rearrange furniture on the floorplan to ensure the final layout is completely suited to your needs
and taste.
Homes are constructed with traditional weatherboards, stone, reproduction stone, brick-veneer, vinyl weatherboards, Weathertex/CSR weatherboards, Colorbond external cladding, or any desired combination of products. The choice of every aspect of the design is yours!