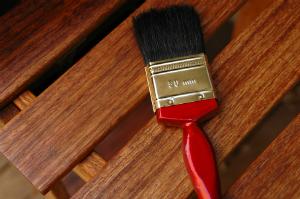 Although loaded with charm and appeal, this Edwardian semi bore the hallmarks of most semis of its era — it was a small, single-storey home that had a dark, cavernous feel. When the homeowners made the decision to renovate, they left no stone unturned. Together with architect Trevor Hall, they set about modernising the kitchen, bathroom and laundry; adding two further bedrooms and increasing the informal living areas — all in a contemporary style to showcase their modest but growing art collection.
Maintaining the external charm of the building's façade, internally the ground floor has been totally overhauled. The existing living and kitchen spaces have been reorganised to create an open, light and functional living area that is both contemporary and welcoming. The old enclosed verandah has been opened up and extended to become part of the new kitchen and dining area. The TV and living space has been cleverly placed so that it is secluded, yet volumetrically linked with the larger spaces, such as the stairwell and the greater dining and kitchen area.
An increased upper level height has allowed for a north-facing clerestory window that introduces light into the middle of the building. Complemented by aluminium-framed glass doors leading to the external patio and garden area, the kitchen and dining area is naturally light for most of the day. The bright, clean, contemporary look is continued in the kitchen, with a white lacquer cabinetry finish and white Corian benchtops. The ground floor bathroom maintains the light, contemporary feel through its highly functional design, which includes the laundry appliances, and its use of stark white cabinetry. 
The first floor addition features a master bedroom with a private balcony, a second bedroom and a magnificent contemporary bathroom that sits between them. With a uniform streetscape that had to be maintained, and overshadowing and sun shading restrictions on neighbourly houses, Hall's sharp renovation has fulfilled the client's brief, while adhering to the strict building guidelines presented. To ensure no further overshading occurred, he designed a curved roof that maintained the existing gutter line on the first floor. This ensured that there would be the same amount of overshadowing to the neighbour, allowing existing solar access, while rapidly increasing the internal head height. This renovation has created a home that combines the best of both worlds — contemporary architecture with traditional design elements at its heart. The large, open and light space is unexpected and rarely seen within the structure and space of a traditional Edwardian semi.

PROJECT PARTICULARS
The project was designed by Trevor Hall of <B>Trevor Hall Architects<B>
21 Albert Street
, Erskineville, NSW 2043 
Phone (02) 9557 6396
The project was built by Peter Stephenson 0419 426 824

FLOORING
Living area: Recycled Dubbo wool stores flooring

WINDOWS
Vantage Commercial Natural anodised finish

WALLS
Dulux "Elephant"
LIGHTING
Lighting design by iLAB: Contact Sarah Palliser (02) 9518 6009. Lighting supply by JSB (02) 9571 8800
KITCHEN
Corian benchtops, lacquer doors, platinum finish mosaics
BATHROOM
Cement-coloured glass mosaics
OUTDOOR AREAS
Water feature, recycled brick paving

ADDITIONAL
Aluminium privacy screens from Hi-light Industries (02) 9648 3199. Steel Fabricator from Tech Steel 0414 281 920.
Metallic mosaics such as the ones used in this project create a stylish and contemporary effect, but they need to be properly cared for if the effect is to last. These aren't a high-maintenance product so to care for your metallic mosaic tiles you need only follow two simple rules. (1) Clean your tiles regularly. (2) Never use an abrasive cleaner or scourer as this may damage the surface of the tile and dull the effect. Always use a specialist tile cleaner or a gentle bathroom or kitchen cleanser. And, make sure you buy a few extra tiles when you are laying your mosaics as you may need to replace a tile or two in years to come and, in some cases, the tile may no longer be available.