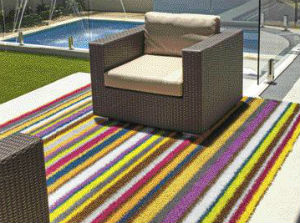 Give your alfresco living space a bold new look with colourful outdoor carpets
There was a time when outdoor carpets may have sounded a little freaky, but it's a design trend that is really taking hold, capturing the imagination of homeowners and designers alike. Leading the charge is freek®, a bold collection of vibrant outdoor carpets designed to introduce colour and style to any alfresco living space, including outdoor rooms.
These vividly coloured carpets can be used anywhere you like — floors or walls, outside or inside — providing you with unlimited decorating potential and a feeling of sheer decadence. Exclusive, stylish and extremely comfortable to walk on with your bare feet, freek® carpets are highly addictive to touch and will add designer flair to any entertaining area.
"freek® is the original colourful carpet for outdoor living, a far-out fix for spaces that need a new dimension," says Chris Kooijman, Director of Exteneo, the company bringing freek® carpets to the Australian market. "freek® is ideal for gardens, terraces, balconies or outdoor alfresco and kitchen areas. These carpets will work well with whatever outdoor arrangement and furniture you may have.
"freek® can also be used indoors: in lofts with concrete floors or to improve drab offices and dreary reception areas. And don't be surprised to find freek® at your favourite cafés, restaurants, beach clubs and resorts."
freek® carpets are made from thin, ultra-soft fibres that are extremely durable. They're also UV- and water-resistant and oh so easy to keep clean. In short, they're the finishing touch that every outdoor room needs — and they can be left outdoors all year round.
"freek® carpets come in a wide variety of stylish and funky colours and patterns and are ideal to use indoors or outdoors in any weather conditions," adds Chris. "With freek®, it's a case of see it, feel it, love it."
For more information
freek® Phone 1300 501 621 Email info@freekupyourlife.com.au Website www.freekupyourlife.com.au