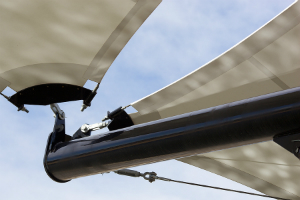 Protect your family this summer with a custom-designed shade system
To fully enjoy the long summer months you need a sturdy and stylish shade system that will keep damaging UV rays at bay and provide a protected space where family and friends can gather. And to ensure you choose the right solution for your backyard, you need specialist help.
Superior Shade Solutions is the shade specialist, offering shade sails, shade structures, giant umbrellas and café or shade screens. Says owner Landon Halliday, "We specialise in small residential works as well as large corporate projects. We also do repairs, advise architects on design ideas, and can work with engineers to come up with site-specific engineering solutions, when needed."
Providing a complete shade service, Superior Shade Solutions can take clients from the initial concept stage, produce shadow drawings and handle DA approval, through to manufacture and installation. They also pride themselves on their ability to come up with creative solutions for tricky sites, to produce custom sizes and to integrate lighting into their shade structures.
"To ensure our structures are built to last, all steel components are powder-coated and fittings are of best-quality 316 marine-grade stainless steel," says Landon. "In addition, all footings are slightly over-engineered to handle the high winds Australia is currently facing thanks to the ever-changing climate."
For residential projects, Superior Shade Solutions uses only commercial-grade shade cloth that is highly water-resistant, rated to provide up to 95 per cent protection from UV light and comes with a 10-year manufacturer's warranty.
For larger-scale projects, such as football stadiums, PVC is the material of choice. Superior Shade Solutions can tailor-make a PVC shade sail or structure to cover any area, either turning the shade system into a feature in its own right or blending it in with the surrounding structures.
Today, we are all much more aware of the hot, dry country we live in and know that too much exposure to the sun can have dire health consequences. Keeping your family protected isn't just about exercising good taste — it's about good commonsense.
SUPERIOR SHADE SOLUTIONS
Mobile: 0416 285 656
Fax: (02) 9820 5586
Email: landon@superiorshade.com.au
Website: www.superiorshade.com.au