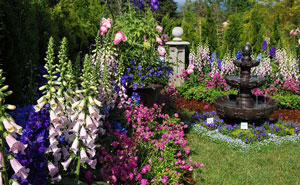 A garden show is a fun day out for the family and a great source of ideas
A visit to a garden show is the best way to keep your finger on the pulse of what is happening in the world of garden design, outdoor décor and plants. Some, like the annual Melbourne International Flower & Garden Show, have a strong focus on outdoor design. Others place greater emphasis on plants and products, such as the Australian Springtime Flora Festival held each year on the Central Coast of New South Wales, although it too has several display gardens for visitors to enjoy.
Then there are the various specialist flower shows, plant fairs and garden festivals run at a regional and local level right around the country. Not to mention the home expos that include gardening and outdoor design displays, the sustainable living expos, the organic gardening festivals and much, much more.
And for those who'd like to tie in an overseas trip with a visit to a leading garden show, you are spoiled for choice. You can zip across the Tasman for New Zealand's annual Ellerslie International Flower Show which, in 2009, will be held in Christchurh for the first time. Or if you feel like venturing further afield there is no better destination than the Chelsea Flower Show in London, considered the premier garden design and horticultural show on the international calendar.
Open Garden Scheme
Australia's Open Garden Scheme provides garden lovers with a wonderful opportunity to explore some of this country's most inspiring properties. It doesn't matter if you have a yen for the Oriental or a penchant for the formal, this scheme covers the gamut.
Australia's Open Garden Scheme is also a great place to start if you're interested in seeing sustainable or water-wise gardening practices in action or learning more about creating an edible garden or a low-maintenance native garden. Of course, you can just simply visit the gardens for the pure joy of seeing what can be achieved with passion and perseverance.
The best way to keep abreast of what's opening and when is to purchase a copy of the 2008/2009 guide. Australia's Open Gardens is available from newsagents, book stores and ABC shops. Or you can order it online at: www.opengarden.org.au.