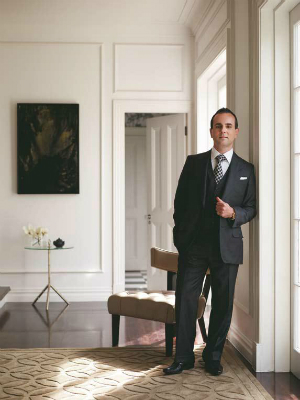 Sydney-based and internationally recognised Greg Natale has built an empire around his cutting-edge work through his business, Greg Natale Design. He has incorporated his signature look, combining his passion for style, symmetry and design into producing his dream patterns in rugs. The rugs are a creation of his passion for repeat patterns.
The range is also part of his philosophy of integrating decoration and design. Inspirations behind each design range from Greg's travels, passion for other cultures and everyday life. He wanted the designs to be familiar but with a signature Greg Natale Design twist. There are six rugs in the range, including:
South Beach
Greg was in South Beach for NYE 2004/2005 and found inspiration for this rug design from a gorgeous decorative concrete screen wall on the exterior of an apartment building.
Corfu
An interpretation of the classic Greek key motif, created with more depth and intensity.
Monte Carlo
A twist on the classic chain link, echoing the glitz and glamour of old school jet-setters.
Palm Springs
A special version of a Chinese interlocking circle pattern. For complex designs, only one colour is used for a more restrained and sophisticated look.
Malibu
Inspired by a decorative concrete screen wall while walking along the boardwalk at Malibu Beach, California.
Oxford
Inspired by a classic interlace Celtic knot pattern — intricate and interlocking.