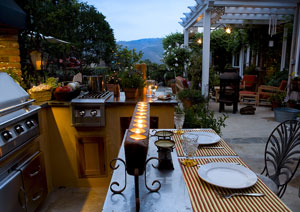 From the terracotta paving to the timber cladding, this backyard makeover was a resounding success
Story: Karen Booth
Photos: Ron Tan
With a demanding family business that keeps them constantly on the road visiting clients, the owners of this Perth property prize the time they get to spend at home. Not surprisingly, they prefer to use that time relaxing and catching up with friends and relatives, not maintaining the garden.
With this in mind, garden designer Dave Crispin of Crispin Browns set about designing a new poolside entertaining area that would be simple, stylish and a breeze to maintain.
Describing the design as "a mix of contemporary ideas with traditional materials", Dave says the recently revamped backyard and pool area now have a nice easy flow and forge a much closer connection with the house, a 1980s orange rough brick dwelling of strong lines and formal design.
"The back garden pool area, although detached from the house, still manages to look as if it is connected to it because of the colours and textures of the materials used," says Dave. "The kapur timber used for the screening gives a very smooth, formal look while the feature panels of stacked-stone cladding add contrast and interest. Kapur timber was the natural choice for masking the ugly old asbestos fence as once it was oiled it gave us a rich, woody colour that blends perfectly with the brick exterior of the house. Then there is the textured non-slip terracotta paving which ties in the colour of the house with the colour of the timber cladding so the connection is very subtle."
Dave believes it is the simplicity of the design that makes it work so well. "Since it's not 'busy' it's easy on the eye. It's also very functional, easy to maintain and the pots and plants add character and shape against the horizontal backdrop of the screen," he says.
To help keep maintenance to a minimum, the plants are all easy-care and dry-tolerant. They include Kalanchoe thyrsifolia, Agave attenuate, Aeonium atropurpurea and Sanservia trifasciata.
"To create interest, we used the borrowed landscape of the neighbouring property. The neighbour's Syzygium 'Bush Christmas' hedge pokes up just over the top of the screen, adding a touch more green to soften the angular lines of the timber cladding," adds Dave.
Now the time-poor owners have everything they wished for. They can sit beside the pool under the shade of the pergola, cook up a tasty family lunch on the nearby barbecue or take a dip in the pool — all in absolute comfort. And they can look out from the house and see a contemporary, beautifully landscaped backyard that is a perfect fit with the architecture of the house and their lifestyle needs.