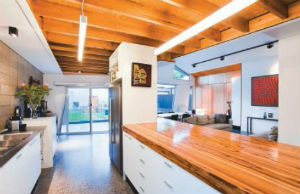 A refreshing and affordable renovation to an architect's own home allows it to maintain its street appeal while growing to accommodate a young family
Words: Danielle Townsend, Photography: Aaron Cebo
Q & A with architect Ed Ewers
What role did glass play in this project ? Obviously glass/windows provide light and warmth/solar gain, views to sky and pool, and design interest.
What glass products were used? Viridian clear double glazing in Capral 400 Series aluminium frames. What were the brief and the design object ives? To achieve natural light and winter warmth, solar control (double glazing) and architectural interest to the interior and exterior of the home, and to provide views to the pool.
Were there any challenges yo u had to overcome? What was the solution? It was difficult to put blinds on the angle-shaped windows. What was the glass size primarily used? 6.38 clear laminated (×2 = double glazing).
Any additional informat ion re windows and doors (eg about yo ur custo m door)? The front door is a custom clear with acrylic 30mm-thick door handle.
Architects have exceptionally high standards when it comes to their work, but when it is the architect's own home he or she is working on, well, that's a whole different ball game. For two years, Ed Ewers, principal architect of Ed Ewers Architecture, along with his wife and three children, lived in this circa-1930 weatherboard cottage with a 1950s lean-to at the rear. "We were attracted to the north-facing block. It was a neat original house with lots of potential and was within walking distance to the cafe strip and amenities," Ed said. In the two years before the renovation began, Ed's ideas for the future design evolved.
The renovation the Ewers family planned was to achieve a simple but striking home in suburban Melbourne. "We wished to retain the home's streetscape charm, but with a new custom door. We also wanted to retain the home's front four rooms," Ed explained. "I wanted affordable contemporary living with accommodation for a growing family and a home office Clever design was to provide appropriate spaces without being extravagant." The existing lean-tos were demolished. The original front four bedrooms leading off the entry hallway have been restumped, rewired, replastered and all windows and doors replaced. New flooring and robes have also been added to revive the rooms. The extension onto the existing dwelling comprises a new open-plan kitchen with solid cypress benchtop and meals and dining area. Positioned above the kitchen is a mezzanine level dedicated to a kids' area and home office that enables Ed to continue working after hours.
Extensive changes were also made outside, with the addition of a mosaic-tiled pool surrounded by bluestone coping for hours of summer fun with family and friends. "The pool was a challenge — such as access for excavation, proximity to the side boundary and getting all the pool equipment and plumbing sorted, especially dealing with overflow risk management," said Ed. In selected areas, the family has been bold with their colour choices — for example, the accents of Spanish Red feature tiles in the bathrooms and the vibrant Monument blue and red Colorbond cladding facing the pool.
Elsewhere, such as in the open-plan kitchen/meals/dining area and hallway, the emphasis has been on a neutral palette with wood bringing natural warmth to the spaces. "We are very happy with the whole home but [as an architect] I would always do things differently next time," Ed confessed. "My favourite part of the renovated space is the front door and the angles throughout the home." The renovation took 11 months to complete and the home has grown from 100 square metres to approximately 185 square metres. From the street, the cottage still looks unassuming, but once you move inside it is now surprisingly large. As Ed put it, "My home now feels bigger than it is. It's a fresh and affordable family home."
Ecologically Sustainable Development (ESD) initiatives undertaken:
• 6-star energy rating • Double glazing
• R3 walls insulation • R6 roofing insulation
• 15 600-litre rainwater tanks connected to washing machine, WCs, pool and garden
• Gas-boosted solar hot-water system
• Hydronic heating • All hardwood from demolition was salvaged and cut down for firewood
• Old joinery salvaged for a garage storage system
Project Particulars
This project was designed by: ED EWERS ARCHITECTURE 6/617-643 Spencer Street West Melbourne Vic 3003
Tel: 03 9326 5366 Email: edewers@ewersarchitecture.com.au Website: www.ewersarchitecture.com.au
This project was built by: Owner builder
Windows + external doors Front door: Custom pivot door with custom acrylic handle
Generally: Capral 400 series double-glazed (natural anodised)
Flooring Kitchen/dining/living: Hyper-Floor ground concrete Bedrooms, stair, mezzanine: Forbo Walton in Crocodile Outdoor: Bluestone pool coping
Walls — internal Kitchen/casual dining: Core-filled face concrete block (reverse veneer) Living: Plasterboard and hoop pine sheet ply, shadowline typical Bedrooms: Plasterboard Bathrooms: Floor-to-ceiling tiles throughout, generally 100×100 gloss white, feature tiles Spanish Red
Walls — external: Hardie Scyon Matrix external wall cladding, Colorbond Spandek external wall cladding in Monument, Frencham Design-a-clad cypress cladding
Outdoor: Core-filled concrete block, custom cypress pickets and glass pool fencing
Kitchen Benchtop: 90×35 solid laminated cypress pine and Durapanel, lami-colour, compact touch finish Splashback: Face blockwork (sealed)
Cabinetry: Durapanel Bianco 2 (golfball finish), white gloss vinyl wrap
Other: Bosch appliances, Qasair rangehood
Sanitary fixtures + bathroom fittings: Caroma cube WCs, Duravit and Fowler Cube basins, Dorf tapware, Bluestone stepping stone shower bases
Lighting:  Generally fluoro lights from Masson and Sonic Lighting
Outdoor: Bluestone pool coping, custom dressed cypress fencing