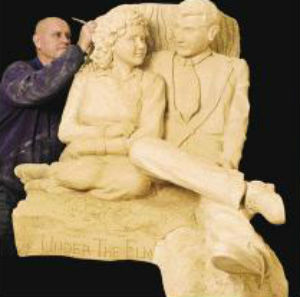 Custom-designed, exquisitely crafted works of art for the discriminating homeowner
For more than 20 years, Surrey Sculpture Studio has been producing exquisite custom-made fountains, architectural sculptures and garden art in myriad styles which can be found gracing homes and businesses the length and breadth of Australia.
The creative force behind the studio is principal sculptor Graeme Foote who is adept at creating artworks that cover the gamut of styles from classic to contemporary. Whether you opt for one of their beautifully crafted stock pieces or commission a one-off sculpture, you can be assured that your new hand-sculpted treasure will have timeless appeal and prove a talking point.
Sculpted figurines and fountains have long played an integral role in defining the character of a garden. Once the purview of the well-to-do, exquisitely hand-crafted sculptures and unique works of decorative garden art are now well within most people's grasp.
Surrey Sculpture Studio will work in close collaboration with you to ensure that the piece you select — or commission — does more than just complement the design of your garden. They will make certain it reflects your personality and lifestyle, thereby guaranteeing your new artwork will be a source of immense pleasure for many years to come.
If you want your fountain or sculpture in bronze, they offer a variety of finishes. Or you might prefer terracotta, raku (sandstone look) or stoneware in a wide range of coloured glazes.
All pieces are designed and made in their studio in the Melbourne suburb of Hawthorn East but they can be sent anywhere in Australia. If you would like to view a sample of their work and you live in the Melbourne area you can pop in to the display area attached to the studio. Or you can browse the Surrey Sculpture Studio website or request they send you a CD containing stunning photos of some of their most sought-after pieces.
For more information
Surrey Sculpture Studio at Hawthorn Studio & Gallery 635 Burwood Road, Hawthorn East Vic 3123 Phone (03) 9882 5553 Email surreys@surreysculpture.com.au
Website www.surreysculpture.com.au Photography by Patrick Redmond