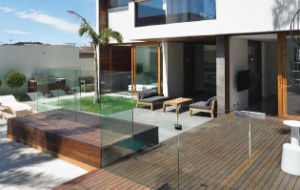 When the owners bought this home for its north-facing backyard, they didn't imagine what an expansive volume could be teased out of the muddle of "rabbit warrens" within.
PHOTOGRAPHY Colin Page
Originally a single-storey 1970s brick building, with "very brown" and dark interiors, this home desperately needed a breath of fresh air. To create a sense of space and order, many of the internal walls were removed — and the resulting home is generous, inviting and exceptionally elegant. Bower Architecture worked magic on this renovation and the blond-bricked, flatroofed, concrete-bound house is no longer recognisable.
The nondescript features are long gone and from its foundations has grown a functional and flexible family home. Polished concrete flooring was poured over the existing slab and, combined with neutral walls and natural timber features, it provides a solid fuss-free grounding to the home. An abundance of natural light filters in, and a perceptible lack of solid walls in the communal spaces means that air flows easily, encouraging natural ventilation and family interaction.
Walking through the front door, a doubleheight gallery welcomes you into the family home. It imparts an air of grandness, but the natural materials mellow the impact and ensure that while the home is impressive, it is far from overwhelming. Simple lines and well-placed windows connect the home with its surroundings and the resulting tone is particularly harmonious. Orchid-white walls in the entry are a direct response to the owner's desire for a mini-gallery space. Highlight windows let in soft southern sunlight to gently illuminate the owners' artwork collection, which leads past the staircase and through to the living zone.
The kitchen is streamlined and practical with abundant storage, and the hard edges are softened by smoky patterns in the Carrara marble island benchtop and splashback. A stainless-steel bench surrounds the sink and stove, adding a utilitarian edge to the look. Effortlessly chic furniture defines a number of different settings for the family to take refuge in or bundle together over a meal; and beyond the confines of the indoors, there are more split levels and areas of interest for the owners to interact within. The spotted gum of the staircase and balustrades is continued in panelling on the ceiling which runs all the way to the outdoor zone and is peppered with downlights for evening ambience.
This seamless integration between indoors and outdoors is pivotal to the home becoming the family's oasis. Glass balustrades surround the pool without visually interrupting the space, and platforms and podiums offer areas for reclining, dining or sipping on cocktails. "The owners wanted a series of social living spaces with a resort feel to be enjoyed with family and friends," Jade Bower, of Bower Architecture explains. The continuity of materials, as well as the flexible perimeters, help to dissolve the visual and physical boundaries between building and landscape.
An unusual — yet exemplary — addition to the rear garden is an external spiral staircase between the rear yard and the first-floor deck. It's an intelligent solution to the age-old problem of children running through the home wet. It gives direct access to the "children's domain" without the need to venture back through the house. Each element is carefully considered and balanced in order to reach the perfect project within budget and without compromising the integrity of the design. The home functions in a versatile way and is sure to mould into different applications as the family grows. "The resulting house is a place rich in possibilities and joy, enveloping its inhabitants in a sunny, social sanctuary that embraces the surroundings and thrives in the Australian climate," Jade concludes.
The Brief
• A space to display their artwork
• A series of flexible spaces (both indoor and outdoor)
• Incorporation of passive ESD features
• Expression of natural materials (such as timber and stone)
Project Particulars
This project was designed by BOWER ARCHITECTURE 28 King Street, Prahran Vic 3181 03 9521 2552  www.bowerarchitecture.com.au  
This project was built by Gerald Cosgrave (Cosgrave Constructions) 0418 380 025
Awards Shortlisted in the 2010 Idea Awards for Best Residential Interior
Flooring 
Kitchen/dining/living: Polished concrete floor (over existing slab)  
Bedroom: Allfloors Carpet Gallery in Concrete Special 
Stair: Spotted gum timber flooring
Outdoor: Spotted gum timber decking
Walls 
Kitchen: Plasterboard painted in Wattyl Orchid  
Dining: Plasterboard and spotted gum timber  
Living: Plasterboard and spotted gum timber 
Bedroom: Plasterboard Stair: Spotted gum timber
Outdoor: Brown marble wall, Classic Ceramics honed marble tiles in Cafe Espresso, external cladding around gallery, VM Zinc vertical interlocking zinc panels in Autumn Red
Kitchen
Benchtop: Calacatta Marble and stainless steel  
Splashback: Calacatta Marble  
Cabinetry: Two-pack semi-satin finish to match Wattyl Orchid and spotted gum timber veneer from Laminex  
Appliances: By owner
Bathroom fittings 
Cabinetry: Two-pack semi-satin finish to match Wattyl Orchid and spotted gum timber veneer from Laminex. 
Benchtops: CaesarStone in Osprey and Snow.  
Basin: Various by Reece 
Tiles/walls and floor: Various by National Tiles, classic ceramics and Perini 
Sanitary fixtures: Various by Reece 
Taps: Various by Reece
Shower/bath: Various by Reece
Lighting
Beacon Lighting and Inlite, dining room pendants provided by owner
Windows + External Doors 
Glass: Low-E glass, single and double-glazed
Frames: Timber-framed glazed doors and windows
Outdoor 
Roof: Colorbond Decking: Spotted gum timber 
Landscaping: Combination of existing with new planting 
Screening: Spotted gum timber
Furniture: Globewest