After living on-site, the owners of this property knew just what they wanted.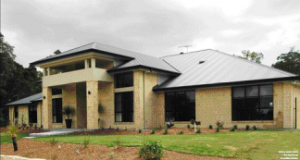 It was not so long ago that the only property that stood on this acreage was a cosy timber cottage surrounded by bush scrub. Perched at the front of the site and at the bottom of its gentle slope, the tiny cottage offered the new owners a prime vantage point to assess the setting and visualise their next move. Inspiration struck quickly as the owners envisaged a timeless family home able to accommodate their children and grandchildren, as well as their everyday needs.
Osman Designpac respectfully crafted their ideas into a remarkable design and Cavalier Prestige Homes (a Brisbane branch of Cavalier Homes) built and completed the dream. "They wanted a large home with high ceilings and a feeling of space and volume," Neil Macleod of Cavalier Prestige Homes recalls. "Together the couple had roughed out a design and were looking for a professional who could not only draw up the plans, but also help create the final touches, such as nooks and recesses, that would make the extra difference. From there, they needed a builder able to provide high-quality inclusions and workmanship at an acceptable cost." 
With Cavalier Prestige Homes committed to the job, all involved were confident the sprawling single-storey home would be a success. Finished in Austral Fresco Sandstone face brick and with Ironstone Colorbond roofing, the residence is spread over 565 square metres and is a vision set back atop the hill. Cleared of the scrub that once overran the site,the home is framed by majestic native trees and cuts a striking figure that never fails to impress. "The house was built at the rear of the property as the owners wanted a home that made a statement as it was approached by way of a long gravel driveway," Neil explains. This mood of grandeur continues through the large timber entry doors that open to reveal the welcoming foyer, where guests are greeted by a five-metre-high ceiling and modern chandelier. From here the formal lounge and dining room can be accessed, each with ceilings raised to four metres. And for casual family get-togethers there is a spacious rumpus room at the centre of the home complete with a roaring gas fire and a media room to occupy the kids. At the heart of such gatherings is the state ofthe- art kitchen equipped to accommodate a team of professional chefs, with Essa Stone benchtops, Miele appliances and a generous sized walk-in pantry.
High ceilings allude to even more room in this already spacious kitchen, and the façade has incredible stature. Entertainer doors fold back to allow the space to flow onto the external sala alfresco area, to be part of the action. An inviting spa bath is the perfect addition to this already luxurious bathroom.  "The home has been built to provide a quality lifestyle for the owners and their visiting family," Neil says. "It's been finished in neutral tones throughout to provide a suitable backdrop for art and other splashes of colour. Special consideration was given to ensure it will be timeless." With their luxurious new home complete, the owners are now poised to remove the old cottage at the property's base, marking the finalstage of the site's transformation. It evolved before them with Cavalier Prestige Homes at the helm of the project, dedicated to turning its client dream into a livable reality. "Every client is extremely important to us and everything we do is on an individual basis," Neil notes. "So while we are part of a substantial corporation and able to provide incredible purchasing power and financial security for our clients, we're also a small and cohesive team able to carefully monitor each aspect of the design and construction process. This lets us ensure each and every one of our clients is presented with a high-quality product within a realistic construction time, just as we did for this happy couple."
Cavalier Homes Australia,
Level 2, Suite 4/328 Scottsdale Drive, Robina QLD 4226.

07 5634 4500
info@cavalierhomes.com.au