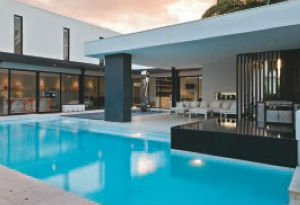 This minimalist, modern outdoor space contains little but speaks volumes
This beautiful and sophisticated outdoor area, serving as a central courtyard, was designed to complement the home's original architecture and décor. Every structure and feature needed to be balanced, proportional and work harmoniously with the home's structure and style. The design encompasses slick lines and hues that create the feeling of more space than there actually is, by blurring the lines between the home's interior and exterior.
Key features of the unforgettable space include a perfect balance of properties, palettes and structure. The pool and spa are absolute standouts. Featuring simple, clean lines and contrasting colours of aqua and black, the two water features provide an eyecatching result due to their different hues, yet work seamlessly together at the same time. The large pool and feature black spa create a mirror-like reflection of each other. "They start the space, both visually and functionally," says designer Steve Taylor of Creative Outdoor Solutions.
The refreshing aqua tones of the pool, built by Goldfish Pools and Landscapes, contrasts beautifully with the crisp whites in the outdoor room, nude hues of the paving, and the glossy black spa. The outdoor room adds another dimension of practical space for the family and any guests who stop by. Perfect for entertaining, the room was built by DDB Design and Build and features a number of comfortable chairs for lounging, as well as a separate cooking area equipped with a stateof- the-art barbecue overlooking the large Canary Island palm.
The palm was actually part of the original landscape and had to be incorporated into the new design. Another standout feature visible from the comfort of the outdoor pool is the brilliant curved and glossy sculpture, just one of the creative finishing touches that were sourced and implemented by the owners. "The clients are in the design game so all of the furnishings and artwork reflect their expertise and taste," says Steve.
Other flourishes include modern designer lounges and outdoor seating and accessories. The downlights and uplights surrounding the pool area illuminate the outdoor area beautifully. The downlights in the outdoor room provide a calming atmosphere to enjoy at night when teamed with the shimmering surface lit by the pool's internal lighting scheme. This stunning outdoor design is a perfect example of how a minimalist approach and simple design principles can produce a visually rich result.
Project details
Landscape design by Creative Outdoor Solutions 392 Burke Road Camberwell Vic 3124
Phone 03 9889 3329 Website www.creativeoutdoorsolutions.com.au
Photography Tim Turner