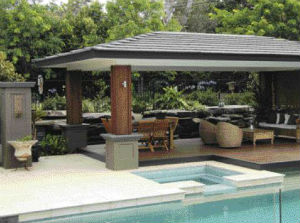 This Bali-inspired, resort-style landscape is one of Canberra's best-kept secrets
Tucked away in a suburb not far from the nation's capitol is a small slice of paradise, Balinese style. From the opulent poolside pavilion to the soothing sounds of the natural stone waterfall, the design — the creation of Darren Dimoff, director of DZ Designs Landscape & Construction — was inspired by the owners' honeymoon in Bali.
The pool with its 12-person spa and frameless glass fencing is the centrepiece of the landscape design and can be seen from virtually every room of the U-shaped, open-plan house. To one side sits a large pavilion extending the home's living and entertaining space and providing cool respite for swimmers.
The pavilion, which was designed to complement the architectural style of the house, includes an area for dining and another for casual conversation, the latter protected from the sun by a simple bamboo blind. The flooring is of merbau timber decking set within a support structure of galvanised steel, painted a charcoal colour. Running along the back of the pavilion is a natural-style waterfall which contributes to the relaxed ambience.
To create the impressive water feature, eight large basalt rocks, ranging in size from 2.5 to 3 tonne, and around 30 smaller half-tonne rocks were randomly stacked. The waterfall seems to merge with the basalt stacked-stone retaining wall that nudges up to the pavilion on one side and then extends around the back garden.
Given the Canberra weather, much consideration was given to choosing plants that would provide a lush look and thrive in the harsh climate. This meant eschewing plants you'd usually find in a tropical-inspired warm-climate garden and opting instead for hardy performers such as Chinese star jasmine, Magnolia grandiflora "Little Gem" and Liriope muscari "Evergreen Giant".
The result is a garden perfect for the young, energetic family that calls this welcoming property home — and an outdoor pavilion that provides the resort-like feel the owners so wanted.
Project details
Landscape design and construction by DZ Designs Landscape & Construction 81 Dominion Circuit, Deakin ACT 2600 Phone (02) 6286 9966 Mobile 0418 627 202
Email dzdesigns@netspeed.com.au Website www.dzdesigns.com.au