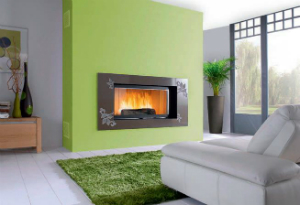 Jeff Collins from Real Flame, Collette Franklin of Woodpecker, Nicholas Agnew, managing director of Agnews Fireplaces, and Demi Brown, general manager of the Australian Home Heating Association Inc discuss the pros and cons of wood heating and slowcombustion fi replaces.
What are the advantages of having a fi replace over other methods of heating?
Jeff Collins A gas log fi replace has a number of benefits. These days, most homes have ducted heating and although they bring warmth to the entire home, most consumers who purchase our fi res do so because they miss the ambience of an open fi re. A gas log fire will create an ambience in a room and an aesthetic that ducted systems cannot. Another advantage is that if the occupants are only using the room the gas log fi re is installed in, they can turn off the ducted system and save a lot of energy. A large number of gas log fi res are also very effi cient in their own right, with many models boasting four stars or higher.
Collette Franklin Mostly it is all about ambience.
An open wood-burning fi replace has a distinct heat about it that cannot be duplicated through other forms of heating. It is more directly intense and its heat output is controlled by you (how much fuel [wood] you use and what type). Fireplaces can be a great source of heating if the fi replace is constructed correctly; if incorrectly built, all the heat is lost and it becomes a waste of resources.
Demi Brown A wood heater off ers a "whole of home" warmth that is second to none. The natural warmth that wood heaters off er cannot be equalled by gas or electricity. Firewood is a renewable source of energy and delivers the lowest-cost energy for home heating. Having a wood fi re running on low all day ensures the whole home has an ambient warmth so there is no need for excessive bursts of energy to get the home comfortable. Wood heating has been rated 4½-stars out of fi ve under the NSW Department of Planning BASIXProgram, which focuses on energy-effi cient homes.
Heating with wood costs less than a $1.00 per day and has the benefi t of being able to run all day without the additional costs.
Nicholas Agnew I guess the decision to include a fi replace instead of other heating methods is a decision to resolve factors other than just heating; other forms of heating are largely invisible and do their job in the background. A fi replace is a focal point and central to the decorating mix. A fi replace always has a strong presence within the room, even when it is not burning. It is that aesthetic impact that a fi replace has on the space and the ambience that it creates that will appeal to many home makers. Choosing a fi replace rather than other heating systems is a decorating and to some extent a lifestyle decision that looks beyond just space heating.
What kinds of fi replaces are out there these days?
Jeff Collins The range is quite large. They start from simple burner models that can be installed into existing working fi replaces. Then there are purely decorative fi res that can be used as an architectural feature. The next level of fi res are still open-fronted fi reboxes, but supply a reasonable amount of heat whileretaining the ability to be "dressed" in a number of fi nishes, allowing the client to create their own individual feature. Finally there are glassfronted gas log fi res that are still stunning to look at, but supply a large amount of heat at a very effi cient rate, many having star ratings of four and above.
Collette Franklin There are many diff erent open fi replace inserts out there on the market today. Sizes vary from a small Edwardian cast-iron insert with antique-style tiles to double-sided units that are 1.5 metres wide. Contemporary or traditional, it's all available.
• There are open fifi re inserts which have an encasing surrounding them called a zero clearance, which allows you to build them into a plaster wall and surround them in all manner of materials such as stainless steel, tile, stack stone etc. They are now as versatile as their gas counterpart.
• The combustion wood heater (an insert with a glass door) is still the most effi cient way to maximise wood heating, with some models heating up to 35 squares. • There are enclosed gas fi replaces and open gas fi re inserts which can give you the look of a real fi re in either a log or coal eff ect.
• For those of you who live in apartments and thought that owning a fi replace was just a dream, there are ethanol fi replaces such as the Planika. They run on ethanol, burn clean and require no fl uing.
Demi Brown Consumers can choose from a variety of models, which include freestanding slow-combustion, radiant and in-built models, as well as heat-circulating fi replaces. All the information on these can be found on the "consumer fact sheet" on the home page ofour website: www.homeheat.com.au
Nicholas Agnew There are two main forms of fi replaces: open-fl ame fi reboxes and sealed fi reboxes, where the fl ame is contained behind a glass panel. Both forms are available in gas-fi red or wood-burning formats, and both can be had in many diff erent sizes. Once the decision about open-fl ame or sealed fi rebox is made, it becomes a decorating decision. There is a terrifi c array of fi replace furniture available, mantelpieces in timber and stone, hearths, grates, fascias — the list goes on.
Are there many diff erences between gas fi replaces and wood fi replaces?
Jeff Collins The primary reasons consumers choose gas over wood are:
1. No mess, no smell and no need to store wood.
2. Ease of use. Gas log fi res can be turned on at the fl ick of a switch.
Collette Franklin The diff erences between gas and wood are vast and cannot really be compared as they are completely diff erent. In heat output, gas fi res can heat up to 12 house squares, can be thermostatically controlled, require very little maintenance and have a remote, whereas a wood fi re can burn much hotter if using a hard wood such as boxwood, produce smoke and will need to be cleaned out. Visually, due to technological advances in research and development, we are no longer stuck with radiating bars that we had as kids in the '70s. There are some brilliant gas log fi res on the market with glowing imitation logs, burning embers and mirrored backgrounds to give that three-dimensional view. Brands vary in the amount of blue fl ame showing but you must remember these are gas fi res. Running costs also vary; an enclosed gas heater may cost from 20 cents an hour to run dependant on whether you use natural or bottled gas. Wood can cost around $250 a tonne and how long that lasts is up to you.
Demi Brown Most areas of Australia do not have reticulated gas which means having to use bottled gas, which is very expensive. Firewood, however, can be obtained quite easily. Wood heaters deliver the lowest-cost energy for home heaters.
Nicholas Agnew Yes, they are very distinct products. The technology and effi ciency of the modern gas fi rebox is just so good these days. With the fl ick of switch, or even the press of a remote-control button, a gas fi replace will spring into life, delivering rapid heat with fan assistance to distribute the warmth. And the fl ame patterns of the modern gas fi replace can be quite spectacular, with an ability to adjust for high and gentle simmer fl ames. It is the simplicity and eff ectiveness of a gas fi replace that makes it a popular choice. Wood fi replaces are a very diff erent experience. Gathering the fuel, coaxing the fi re to start and stoking the fi re are all very hands on. It is something of a ritual that connects people with experiences and places in their lives. Selecting a wood fi re in preference to other high-tech systems is more about a lifestyle decision. And then there is a unique heat that comes from a wood-burning fi replace that makes you feel like it is warming the bones. We encounter a lot of passionate fans of wood-burning fi replaces who wouldn't consider anything else.
Are fi replaces environmentally friendly?
Jeff Collins Gas is a natural product and is found deep underground. It is extracted via wells drilled into the ground and only requires a simple fi ltering and separation process to bring it directly into homes and businesses. Natural gas consists mainly of methane, which is the most greenhouse-friendly fossil fuel. It is a nontoxic and odourless gas. Odorant is only added as a safety measure; it produces up to 75 per cent less greenhouse gases than electricity.
Collette Franklin With all concerns of the environment and our impact upon it, people may have shied away from wood heating as a source of heating but when used responsibly, wood heating is a terrifi c and sustainable method and the only renewable source we have. You should purchase fi rewood from a reputable, registered fi rewood dealer and ask questions as to where the wood is sourced. You should only burn dead, DRY wood; just because wood is dead does not mean it does not contain moisture. Dry wood produces less smoke and burns cleaner. Your chimney needs to be at least one metre above your roof line and a bird cowl will help direct the smoke to fl ow with the wind.The Australian Home Heating Association is a fi nancial supporter of Landcare Australia and has planted more than 40,000 trees and is involved in farm forestry projects. Funds are contributed to Landcare from every wood heater sold by an AHHA member. That's why it's important to look for the AHHA and Landcare logos when buying a wood heater. You can go to www.homeheat.com. au for more information.
Demi Brown From a greenhouse gas emission point of view, wood heaters emit minimal greenhouse gases and are carbon neutral. Firewood has the ability to reabsorb carbon dioxide from the atmosphere.
Nicholas Agnew The development in gas and wood burning technology in recent years has been quite signifi cant. The industry is very much aware of community expectations and their responsibility to the environment. The modern gas and wood burning fi reboxes aremuch more effi cient than even those of a few short years ago. They are able to deliver higher heat outputs with lower fuel inputs.
Is it easy to upgrade/renovate a current fi replace?
Jeff Collins Yes! As there are so many diff erent models available, it is rare that one cannot be found to bring an existing fi replace to life with a gas log fi re.
Collette Franklin Most fi replaces are easily renovated depending on what you wish to do. You may want to have an open fi re insert, a glass-door combustion heater, an open gas insert, or an enclosed gas insert unit fi tted.
You will need to ask some questions:
• Check the state of your chimney — is it in good condition?
• Is the chimney straight up or does it have bends through it?
• Can gas be easily lead up to the fi replace and how far away is it from your gas line?
• Take measurements of the opening — will it be big enough? Take this information to a dealership and it will help in your investigation as to what options are available for you. Bricks can sometimes be removed to make an opening larger but generally you do not want to remove the lintel bar.
Demi Brown Open-brick fi replaces, while providing ambience, are not an effi cient heating source as most of the heat is lost up the chimney. An alternative is a heat-circulating open fi replaceinsert, which can be fi tted into an existing open-brick fi replace. Inserts allow you to keep the charm of a fi replace, but are a much more eff ective source of heating. Fireplace inserts are an ideal alternative to an open-brick fi replace, while maintaining all the charm, atmosphere and character of an open fire. (Demi notes that open-brick fi replaces are ineffi cient and have been banned in some areas of Australia.)
Nicholas Agnew It can be if people plan the project, get expert advice and use the correct materials. Renovating a fi replace isn't diff erent to any other home improvement project. Agnews helps with fi replace renovation projects every day. For the traditional purists wanting to return their fi replace to original splendour, Agnews has a big selection of historically correct reproduction fi replace components. More often than not, home improvers are taking a casual approach to refurbishing the fi replace and blending contemporary themes with classic forms and we are seeing some very exciting fi replace settings result. People shouldn't be daunted by their fi replace project. It needn't be complex and it needn't be expensive. But it should be part of their planning from the beginning of the home improvement project. The fi replace setting will have a strong impact in the space it occupies and really should be a central component in developing their vision for the room.
What are some of the new technologies coming out for heating?
Jeff Collins Real Flame has long been considered one of the leaders in gas fi replace technology in Australia and we are constantly developing new and exciting products for our markets. Our focus over the past year has been to develop more energy-effi cient products in line with consumer demand for better effi ciencies and also as our way of caring for the environment. This year we will be launching three new energy-effi cient gas log fi res with star ratings of four and above.
Collette Franklin We still use wood, gas, water, solar etc but new design and technology have made heating more effi cient and in many cases more visually pleasing. It has allowed a lot more fl exibility in design and applications and has allowed these heating methods to be used in conjuction with each other and other building materials available on the market today. Still, investing some time and eff ort to investigate the most cost-effi cient and eff ective heating long term is the key to a comfortable home you can enjoy.
Demi Brown Members of the AHHA are continuously improving their product through technology. Performance and effi ciency are key factors in the development of new products.
Nicholas Agnew It is an exciting time in our industry as new things are coming through to respond to lifestyle changes and new building trends. I can mention a couple of examples.
• Compact "Electrafyres" have been a good solution for apartments and areas where building a fi replace is not possible. These electric-powered heating systems plug into a power outlet and have a real-fl ame-eff ect display. Either freestanding or able to be integrated into a standalone mantel console, they look attractive and eff ectively heat a medium-sized space. Electrafyres are a quick and cost-eff ective solution for a problem space.
• We now have a selection of wood and gas-fi red heating systems for use in outdoor spaces. As the trend toward alfresco entertainment spaces gathers popularity, these outdoor heating systems are giving people year-round access to their courtyard and balcony spaces.
• The new Heat and Glo VERTICAL freestanding gas heater is a terrifi c response to catering for small and awkward spaces. It can be fl ued vertically or horizontally and has a small footprint that allows installation just about anywhere. Styling is modern and sharp, proportions are compact, and it works just as well as a standalone feature or integrated with the contemporary mix of furniture and appliances.