Keeping up with trends and injecting personal style into a bathroom could result in a dated look within two years. But is there a better way?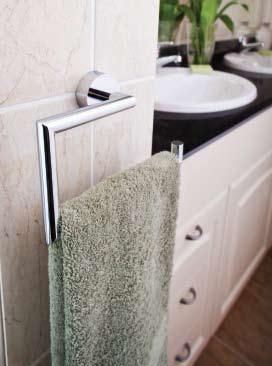 Starting with a timeless bathroom foundation will allow the design to remain current. This is best achieved through the bigger bathroom pieces, such as the bath, spa, shower enclosure and basins. Smaller pieces, such as the tapware and accessories, can be a bit more fashionable but should still keep some traditional lines. Injecting individual personality through one or two feature pieces not only draws the eye but also allows for a quick and cheap update in two years' time when the chosen design needs refreshing.
Raymor, a trusted Australian bathroom product brand for more than 60 years, offers a large range of timeless products with a mix of unique statement pieces. Build a strong foundation within the bathroom with a standard spa, chrome fittings and Coral vanity basins. Enhance these classic items by adding Piccolo basin mixers, Piccolo bath mixers and a Boston spa spout. Add an element of style with some modern lines using a range of Boston bathroom accessories (towel ring, double towel rail, robe hooks, soap dispenser). Finish it off with a toilet suite with soft curves and a strong waterefficiency rating, such as the new Andorra II close-coupled toilet suite. This provides the strong base for a timeless bathroom.
Bring some life and individual personality into the room. Create a focal point with a unique and bold shower, such as the Tranquility Square 200mm shower head. Add feature colours with linens and fresh flowers and your bathroom is complete.
Although the bathroom is still functional two years later, the design may need to take on a more elegant feel but there's no need to fear. This can easily be achieved by swapping the shower with a smaller and more slender shower head or by changing the spa spout to one with a sheet-flow effect. Some new fluffy white towels could be the finishing touch to complete the transformation.
Whatever the style, Raymor has the perfect mix of bathroom products to ensure any old bathroom can be made to look new.
Raymor is exclusively available through:
TRADELINK PLUMBING CENTRES
Tel 1800 BATHROOM (1800 228 476)
Web www.tradelink.com.au
Facebook www.facebook.com/TradelinkBathroomSpecialist
Open Monday to Saturday in most areas.
Contact your local showroom or visit the website.