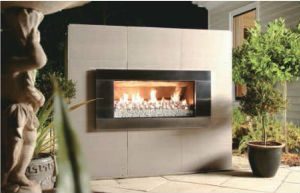 Everything you need, from outdoor fireplaces and gas torches to woodfired pizza ovens
With year-round alfresco living and entertaining the goal of most Australian homeowners, providing the right heating, lighting and outdoor cooking options has never been so important. Keenly aware that every family has its own requirements, Abbey Fireplaces provides an extensive array of products to suit every taste and budget.
At Abbey Fireplaces you are spoilt for choice with one of the largest product ranges in Australia. What is more, the company has the expertise to guide you through the selection process to ensure you get the perfect heating, cooking or lighting solution for your particular needs.
Heating has become an essential in the outdoor room and the range of options has never been so broad. Recognised as one of Australia's leading outdoor fireplace specialists, Abbey Fireplaces stocks 22 brands of wood-burning fireplace, 12 brands of gas fireplace, six brands of electric fireplace plus a selection of ethanol-fuelled (spirit) fireplaces and chimineas.
Brands include the Heatmaster range of wood and gas fireplaces, the Escea range of gas fires, the Coonara outdoor gas fire pit, the Heatstrip electric radiant panel heater, the Gasmate radiant ceramic heater as well as the VioFlame ethanol fireplace, which can be used inside the home as well as in the garden.
To experience first-hand the warmth and glow of the various outdoor heating options, you can visit Abbey Fireplaces' flagship showroom where you will receive expert advice and find on display more than 70 wood-burning fireplaces, 30 gas fireplaces and 25 electric fireplaces. Or you can check out the easy-to-navigate website.
Abbey Fireplaces also offers seven brands of woodfired pizza ovens, including Heatmaster, Wildcat and Zesti, with 10 ovens on display in their main showroom. Woodfired cooking has really taken off in the last few years, with many families opting to have both a backyard barbecue and a woodfired pizza oven to add variety to the outdoor cooking and entertaining experience.
And if you are in the market for a barbecue, Abbey Fireplaces stocks them too. Big-name brands include BeefEater and Rinnai.
To light your way, add ambience and provide the finishing touch to an outdoor room or alfresco entertaining area, Abbey Fireplaces stocks the Tempest Torch. This gas torch produces a mesmerising, dancing flame and is fuelled by butane canisters that provide approximately eight hours burn time.
Although based in New South Wales, Abbey Fireplaces can ship products Australia wide. Most deliveries are made within one working week.
For more information
Abbey Fireplaces 26 Roger Street, Brookvale NSW 2100 Phone (02) 9939 9848 Fax (02) 9939 4818 136 Industrial Road, Oak Flats NSW 2529 Phone (02) 4256 5555
Email outdoormega@optusnet.com.au Website www.thefireplace.com.au